Carter wants Brazil to play a role in Mid East peace; US mediation exhausted
Wednesday, December 22nd 2010 - 05:18 UTC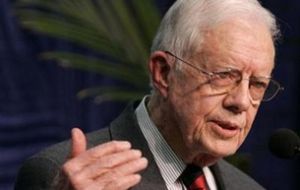 On the same day that work began on a new Palestinian embassy in Brasilia, Brazilian president Lula da Silva said that peace in the Middle East was impossible with the United States as a mediator, reported the Palestine News Network.
Former US President Jimmy Carter said Brazil had a "crucial" part to play in Middle East peace:"Brazil can help because it has a lot of influence among developing countries. Brazil can be one of the leaders in this process."
He added that "We cannot count on the United States alone to bring peace, since it agrees with almost everything Israel does".
Lula da Silva said that the US role as "guardian of peace" in the Middle East had been exhausted.
"There will not be peace in the Middle East as long as the United States is the guardian of peace. It is necessary to involve other countries in negotiations (between Israel and the Palestinians)" he said.
The Brazilian president also repeated his call for a permanent membership at the United Nations Security Council, to reflect 21st century realities by including such nations as Brazil, India, and Japan.
"It is important to develop other elements, other countries which could mediate" said Lula da Silva.
For his part, Palestinian President Mahmoud Abbas welcomed Brazilian recognition and willingness to build an embassy in a statement on Tuesday in Ramallah.
Palestinian ambassador to Brazil Ibrahim al-Zaben announced on Monday that he had handed over documents to the Brazilian government authorizing the construction of a Palestinian embassy in the capital Brasilia.
The land in question was purchased for 14 million US dollars and comprises 4 acres as well as another 4 acres of green space. It lies in the north of the capital, next to other national embassies.
Brazilians and Palestinians have historic ties, with roughly 50,000 Palestinians living in the South American country, most of them refugees from 1948.
A month ago, Brazil became the first high-profile country in years to recognize a state of Palestine on its 1967 borders. It was followed by neighbours Argentina, Uruguay, and Bolivia, and Ecuador is reported to be making similar moves.