EU raps European airports for failing to deal with freezing weather
Wednesday, December 22nd 2010 - 05:35 UTC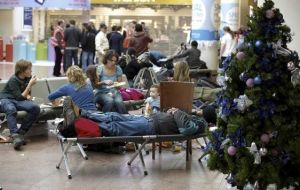 The European Union has strongly criticized European airports for failing to deal with recent freezing weather, which has left thousands of travellers stranded. Around 1,000 flights were cancelled across the continent on Tuesday.
European transport commissioner Siim Kallas urged airports to "get serious" about planning, and labelled them a "weak link" in the infrastructure. But Europe's airport operators hit back at claims they had not done enough to prepare for the severe weather.
Airports Council International (ACI), the professional association of European airport operators, said 88% of flights to and from European airports had been operating.
Weary passengers struggling to reach Christmas destinations are spending a fourth day at airports, where patience with a shortage of both information and basic supplies has been wearing thin.
Kallas in a statement said that airports in western Europe needed to learn from their counterparts in northern Europe.
"In recent days, I have become increasingly concerned about the problems relating to the infrastructure available to airlines - airports and ground handling - during this severe period of snow," he said. "It seems at this stage that this is a 'weak link' in a chain which, under pressure, is contributing to severe disruption."
He said he intended to meet airport officials from around Europe to take a "hard look" at how they can operate more effectively in the future.
But the ACI said airports in northern Europe found it easier to cope with severe weather because the temperatures there remained largely below freezing, so the condition of the runways did not change, whereas fluctuating temperatures in Western Europe had caused problems.
On Tuesday, airports around Europe continued to struggle against the scheduling backlog caused by difficult weather conditions and days of delays. Arguably worst affected was Heathrow, cancelling more than half of its scheduled flights - running 614 flights and cancelling 752. But the airport's operator BAA turned down Army help after days of disruption.
Passengers at Europe's busiest airport have been warned there will be a reduced timetable until at least Friday, although Heathrow plans to run two-thirds of scheduled services on Wednesday now that one of its two main runways have reopened.
In France, officials said they were working around the clock to clear a backlog at Paris's Charles de Gaulle airport, which was badly affected by severe weather on the weekend.
The problems at Heathrow continued to have a knock-on effect at airports around the world. Ireland's main airport near Dublin was remaining closed until at least 0800 GMT on Wednesday because of ice on the runway.
Continental Europe's largest airport, Frankfurt, had to close for three hours and cancel almost 300 flights after being hit by an unexpected snowfall overnight. But flights resumed on Tuesday morning and airport operator Fraport said normal flight operations would resume as quickly as possible.
Eurostar passengers hoping to travel from London to Belgium and France have been hit by mass cancellations caused by speed restrictions on the lines. Railways in Germany were also struggling to cope, as air travellers who could not get flights resorted to other means of transport. (BBC).-