China buys power distribution plants which supply Brazil's main cities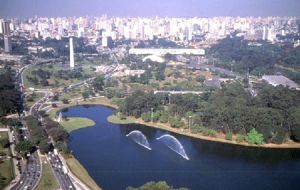 State Grid Corp. of China completed the purchase of seven electricity distribution businesses in Brazil for 989 million US dollars, announced the government this week.
Beijing-based State Grid will run electricity transmission services in the southeast of Brazil and supply power to Brasilia, Sao Paolo and Rio de Janeiro, according to a statement at the website of the Chinese government's State-Owned Assets Supervision and Administration Commission yesterday.
China's biggest electricity network operator agreed in May to buy controlling stakes in seven power transmission units in Brazil from Elecnor SA, Abengoa SA, Isolux Ingenieria SA and Cobra Instalaciones y Servicos SA. Latin America's biggest economy is attracting local and overseas investors to develop its energy infrastructure to meet power demand as its GDP expands more than 7%.
State Grid has obtained a 30-year right to transmit power to the southeastern region of Brazil, the statement said. The electricity distribution businesses will generate annual profit of about 110 million, according to the statement.
A unit of State Grid won the right in 2007 with local partners to run an electricity distribution network in the Philippines.