Uruguayan Major General appointed head of UN mission in India and Pakistan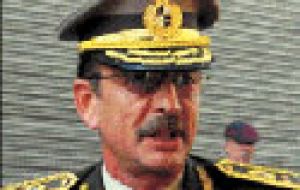 United Nations Secretary General Ban Ki-moon announced Wednesday the appointment of Major-General Raul Gloodtdofsky Fernandez from Uruguay as head of the United Nations mission in India and Pakistan.
Maj.-Gen. Gloodtdofsky, 58, will replace Major-General Kim Moon Hwa of the Republic of Korea as the Chief Military Observer and head of the UN Military Observer Group in India and Pakistan (UNMOGIP).
Mr. Ban expressed his gratitude to Maj.-Gen. Kim, who completed his assignment on 27 November, for his exemplary and highly professional service in UNMOGIP over the past two years.
The Secretary-General said Maj.-Gen. Gloodtdofsky brings extensive and wide-ranging experience, including significant command expertise and prior service in UN peacekeeping to his new position. He joined the Uruguayan army in 1972 and is currently a division commander.
Between September 2006 and November 2007, Maj.-Gen. Gloodtdofsky served as Deputy Force Commander of the UN Stabilization Mission in Haiti (MINUSTAH) and, in 1991, as a Military Observer in UNMOGIP. He was also the Military Adviser of the Permanent Mission of Uruguay to the UN from 2001 to 2003.