China prepared to support Euro zone, buying sovereign Greek and Portuguese bonds
Friday, December 24th 2010 - 07:59 UTC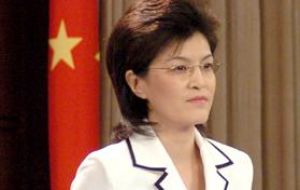 China said on Thursday it was willing to support Euro zone countries through the region's debt crisis. "We are ready to support the Euro zone countries to overcome the financial crisis and realize economic recovery," foreign ministry spokeswoman Jiang Yu told reporters.
She described the European Union as a "one of the major markets" for Chinese foreign exchange investment in the future.
Beijing has the world's largest foreign exchange reserves at 2.65 trillion US dollars. A significant proportion of that is invested in the Euro.
Annual trade talks between the EU and China took place earlier in the week. Chinese Commerce Minister Chen Deming said Beijing was "very concerned" about the European debt crisis, and asked to see if "consensus can be translated into real action" to ensure recovery.
Greece was offered a 110 billion Euro bailout from the EU and IMF in May. Ireland was forced to ask for an 85 billion Euro loan package last month.
Portugal, Spain, Belgium and Italy are considered at risk going into 2011.
In October, China pledged to buy bonds from Greece when it begins issuing debt again.
Chinese President Hu Jintao offered to help Portugal handle its financial crisis, during a visit to Lisbon last month. To date, Beijing has made no firm promises on purchasing Portuguese government debt.
Beijing has expressed its support for moves made by the EU and the IMF in providing support to struggling countries in order to stabilize the Euro zone. However Jiang refused on Thursday to provide specifics about how China would invest in Europe.