Uruguay under agriculture "state of emergency" because of lack of rains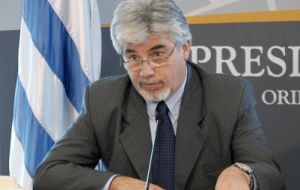 The Uruguayan government declared Thursday an "agriculture state of emergency" because of the drought situation to the north of the country. The declaration opens the way to grant small farmers government support.
Agriculture, Livestock and Fisheries minister Tabare Aguerre announced that in the framework of the emergency, tariffs on forage have been eliminated, the implementation of new water supply sources is tax free and cattle are allowed to pasture along the highways and roads clearances.
The emergency initially will last for 90 days and could be extended to other regions of Uruguay based on the magnitude of the water-deficit, which has worsened because of insufficient rainfall.
According to a recent estimate from the Agriculture Ministry the drought could cost Uruguay's farm sector over a billon US dollars
In 2008 and during a few months Uruguay suffered a devastating drought which caused heavy losses of livestock, crops and hydroelectric production, which normally generates 90% of power had to be replaced by fuel burning plants and support from Brazil.
Cattle and sheep not only died and had to survive with depleted pastures but also suffered insufficient mating which means that any where between 250.000 and 300.000 calves, future steers and heifers are missing.
Uruguay and parts of Argentina and Brazil are suffering the consequences of the so-called La Niña phenomenon, in a mild version compared to other opportunities, which normally manifests with insufficient rainfall.
Almost 70% of Uruguay's exports come from farming (beef, grains, oilseed, dairy, lamb, hides, wool, forestry) while an estimated 60% of local industry is closely linked to agriculture activities.
Minister Aguerre on making the announcement recalled that in early spring (September) he warned ranchers that with live cattle selling at 3.20 US dollars it was the moment to alleviate pastures and fields.
"Nobody should commit the stupidity of selling cattle with 50 kilos less at 2.40 US dollars a kilo if the drought turns severe", he was quoted at the time.
Aguerre also recalled that during the previous drought the government helped out with water-supply resources in almost 2.000 cases involving 24.000 family farmers.
"Uruguay needs to urgently adapt its farm production system to these climatic situations which are occurring too often and are distant from normal patterns of our records", said Aguerre.