LAN and TAM ready to become Latam's largest airline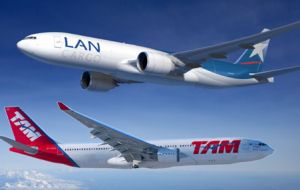 Chile's flag carrier LAN expects its planned merger with Brazil's TAM to clear regulatory hurdles and take flight in mid-2011, a top executive of the Chilean airline said in a radio interview on Friday.
"We hope by the middle of next year to be on solid ground to begin working together," LAN Chief Operating Officer Ignacio Cueto told local radio Duna in comments on the radio's website on Friday.
The Cueto family (Enrique and Ignacio) is the main shareholder of LAN, (40%) considered one of Latin America's most profitable airlines. The family originally held 31.8% and recently purchased the 8% belonging to President Sebastian Piñera
Both airlines announced their merger plans in August and are waiting for regulatory approval in their countries. Analysts say LAN is effectively acquiring the Brazilian airline as the Cueto family is set to emerge with the biggest stake in what would be one of the world's top carriers.
The Cuetos transferred their LAN shares into a new holding company via a public offering on Friday, in what they said was a move to simplify their shareholders structure ahead of the merger with TAM. The family used the public offering to transfer the shares to take advantage of tax breaks, local media said. It was the largest operation ever in the Santiago exchange involving 2.135 billion US dollars.
Local media has reported Chilean authorities are worried that the new LATAM Airlines Group could end up with nearly complete control over the Santiago-Sao Paulo route after the merger. Still, experts have said approval is likely in both countries
The fusion of LAN and TAM would make it the largest air carrier in Latinamerica with an equity value of 14.5 billion USD and 6% of all world air transport. LATAM would fly passengers to 115 destinations in 23 different countries and cargo transport to the entire world.