Seafood delicacy with over 10.000 years of history, Chilean abalone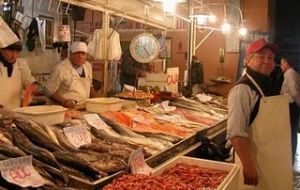 A 19-year investigation by two Chilean researchers confirms that Chilean abalone, known locally as "locos," have been a staple in the diet for people living near the coasts in this part of the world for at least the past 10,400 years.
Universidad de Chile archaeologist Donald Jackson, originally from the United States, teamed up with Pedro Baez of the Museum of Natural History to explore hundreds of "conchal" sites (sites where pre-historic nomadic and fishing communities tossed their shells after eating the meat) in an effort to decipher the living and social habits of Chile's original inhabitants.
Some of the conchal sites they reviewed had as many as 145,000 abalone shells and are believed to have been used for several hundred years at a time.
Chilean abalone is the local sea shell food with the greatest amount of meat on it, and so became an important staple in the diet of the country's first inhabitants. But the abalone shells and their conchales also served other functions: the shells were often used as scrapers for processing leather and the conchal sites used as a burial ground for the dead.
The shell sites also provide clues to the life-styles of Chile's early inhabitants, said Baez. The conchal sites generally revealed that only young abalone were eaten and that the nomadic groups eating them were quite small and never threatened the abalone population.
The evidence also suggests that inland–dwelling people often came to the coast to feast on the abalone, perhaps when drought or other factors made inland food production difficult.
The funding for the research project came from Chile's national foundation for scientific and technological development, Fondecyt.
By Steve Anderson – Santiago Times