Brazil: Lula disappointed with Obama's LatAm policy
Wednesday, December 29th 2010 - 07:09 UTC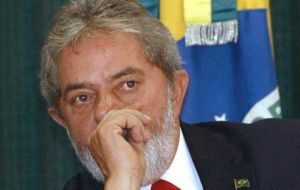 Relations between the United States and Latin America have not changed in any meaningful way under President Barack Obama, Brazilian head of state Luiz Inacio Lula da Silva said.
"The truth is that nothing has changed and I view that with sadness," the departing chief executive said during a breakfast with journalists at the presidential palace in Brasilia.
Lula, who leaves office Saturday after two four-year terms, said that despite his having several conversations with Obama about the need for "a change of vision" in Washington's relations with Latin America, he is not confident the message has been received.
"In the United States they should understand the importance of Latin America," the Brazilian leader said, "a democratic region ... without nuclear bombs."
With "more than 35 million Latin Americans living in the United States," Lula said he finds it hard to understand why Washington continues to behave as an "empire" in its ties with the region.
"I hope Obama visits Brazil in 2011, but the important thing is that he visits not just this country, but all our countries, to know our reality," the Brazilian president said.
Lula also repeated the criticism he offered last week of U.S. policy in the Middle East.
"There will be no accord in the Middle East while the United States believes it can build peace alone, because it is part of the conflict," he said.
While "the people of the United States want peace" and "many sectors" among the Israelis and Palestinians feel likewise, the officials at the negotiating table do not necessarily share that goal, Lula said. (EFE)