Britain should leave the United Nations Security Council suggests Argentine Ambassador
Wednesday, December 29th 2010 - 20:25 UTC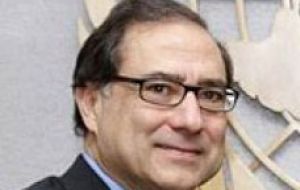 In his response to the British Prime Minister's Christmas address to the Falkland Islanders, Argentina's Ambassador at the United Nations, Jorge Arguello, makes the strong suggestion that Britain should lose its place on the UN's Security Council.
The United nation's Security Council is the responsible organ for all matters relating to international peace and security and its members, according to Ambassador Arguello, should be expected to behave in an exemplary manner, rather than giving rein to abuses.
David Cameron's assurance to Islanders that the sovereignty of the South Atlantic archipelago would not come up for discussion is, according to Ambassador Arguello, an abuse of Britain's position on the Security Council as it signifies that Britain has no intention of complying with the resolutions of the General Assembly on this subject.
"The time is coming when the international community may ask itself whether having won a war sixty years ago is sufficient to ensure a place on the Security Council in the Twenty-First Century," Ambassador Arguello states.
Cameron's suggestion that the only circumstance in which the Falkland Islands' sovereignty might be discussed would be with the consent of the Islanders themselves also attracts a critical and negative response from the Ambassador.
"So, very well, who are the Islanders? Are they a people needing to be liberated from colonial oppression? No, we are talking about a population that was implanted after the Argentine population that lived there was removed by military force. It is made up of British citizens whose primary purpose is to use its parliament to block any attempt by the international community to reopen negotiations between its country and Argentina.
"Cameron knows that the 'Islanders' include a substantial proportion of soldiers who are there, not so much for the colony's defence as to sustain the illegal exploration of resources in the South Atlantic and to safeguard the military strategic interests of the British Crown."
The Argentine Government's permanent representative at the United Nations concludes his statement by saying that at a time when that body is advancing with greater legitimacy and representation in all its organisations, Cameron's message about the Falklands, coupled with his expressed desire to enjoy "a constructive working relationship with Argentina" lays bare one of the most obvious and risky contradictions in the British attitude.
"His affirmations and denials can be seen as self-destroying by all the international community, while the Argentine claims over the Falkland Islands, South Georgia and the South Sandwich Islands need no such apparent contradictions to be seen as just and legitimate from now on until their inevitable conclusion." (Telam)
.