China reiterates commitment to combat consumer inflation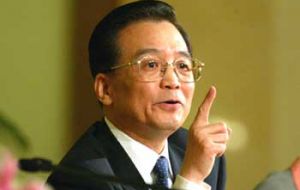 Chinese Premier Wen Jiabao vowed again to step up efforts to keep consumer inflation in check in 2011, state media reported on Sunday.
"The central government has taken a slew of steps to stabilize prices. We will put it higher up on our agenda," state television quoted Wen as saying, repeating the top leadership's line since inflation hit a 28-month high in November.
Wen made the remarks in a New Year trip to supermarkets and herdsmen's homes in the northern Inner Mongolia Autonomous Region.
China raised interest rates twice and increased bank reserve requirement ratios six times in 2010 as it moved to normalize monetary policy to absorb excess liquidity.
World markets are closely analyzing the latest measures announced and implemented by Beijing to contain inflation since this could have an impact on monetary policies and by extension to the rate of growth of the second largest economy.
China has effectively become the main engine of the world economy and markets are extremely sensitive to any events or announcement, given the fact that the US' recovery is proving to be much slower than anticipated and the EU remains stalled with some of its members deeply challenged by the sovereign debt and others with the exception of Germany still have to show a robust upturn of their economies.