Brazil enforces new reserve requirements to weaken the Real vis-à-vis US dollar
Thursday, January 6th 2011 - 20:48 UTC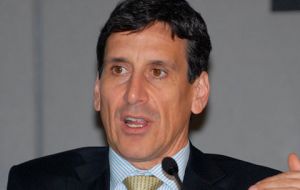 The Brazilian currency Real weakened after the central bank introduced reserve requirements on short positions in U.S. dollars held by local banks with the purpose of weakening the Real which this week reached a historic high against the greenback.
The new reserve requirement have a potential to reduce short positions in the dollar to 10 billion from 16.8 billion USD in December as banks seek to avoid paying reserve requirements on currency operations, Aldo Mendes, the central bank's director of monetary policy told reporters in Brasilia.
Starting April 4, Brazilian banks will need to deposit in cash at the central bank 60% of their short positions in U.S. dollars after deducting 3 billion or their capital base, whichever is smaller. The reserves deposited at the central bank will not earn interest, Mendes said.
Brazil is trying to curb a rally in the Real, which has strengthened 38% against the U.S. dollar since the start of 2009. Finance Minister Guido Mantega this week said the government is ready to take new measures to curb capital inflows and prevent the dollar from "melting."
Brazil's Real fell 0.5% to 1.6820 per U.S. dollar in early Thursday trading. Yields on the interest rate futures contract due in January 2012 rose 4 basis points to 12.13%.
Mantega said Jan. 4 that the government has an "infinite" number of tools at its disposal to affect the country's exchange rate and support exporters hurt by the currency gains. Past measures including last year's tripling to 6% of the IOF tax on short-term capital inflows have been "effective," he said.
Brazil's trade surplus narrowed 20% last year from 2009 as a stronger currency and the fastest economic growth in more than two decades fueled imports.
Mendes said on Thursday the reserve requirements seek to avoid "extreme" positions in the currency market. In 2009, Brazilian banks held 2.9 billion in long positions in dollars, swinging to 16.8 billion in short positions at the end of 2010.
The measures are "prudential" and could spur dollar purchases that weaken the Real, Mendes said.