China to the rescue of Europe confirms purchase of Spanish sovereign debt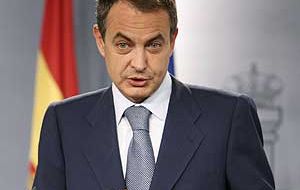 Chinese Vice Premier Li Keqiang has said Beijing is willing to buy about Euro 6 billion worth of Spanish public debt, Spanish newspaper El Pais reported on Thursday, citing government sources.
Li told Spanish Prime Minister Jose Luis Rodriguez Zapatero during a meeting in Madrid on Wednesday that China "was willing to buy as much Spanish debt as the Greek and Portuguese debt holdings combined, that is some six billion Euros".
The newspaper could not confirm the figure with Li but spoke to China' Vice Minister of Commerce Gao Hucheng who said that any transaction would be determined according to the date and size of any public debt issue.
In an op-ed piece in El Pais on Monday, one day ahead of his arrival in Madrid for a three-day official visit, Li said China was confident Spain would recover from its economic crisis and would continue to buy Spanish government bonds, without specifying a figure.
"We have confidence in the Spanish financial market, which has been translated into the acquisition of its public debt, something we will continue to do in the future," he said.
Spain was the first stop of Li's three-nation tour of Europe that will also include Britain and Germany, where he arrived Thursday.
Spain's central government must raise about Euro 170 billion this year on top of Euro 30 billion by the country's regional government's according to debt ratings agency Moody's.
Any bailout for Spain would be far bigger than anything seen to date in Europe -- its economy is twice that of Greece, Ireland and Portugal combined -- and many fear it could force a re-think of the euro.
China has the world's biggest foreign exchange reserves at 2.648 trillion USD, with a large chunk -- nearly 907 billion -- in low-yielding US Treasuries but a growing portion invested in Euro assets.
Analysts say that stabilising the economy in the EU -- the top destination for China's exports -- is in the interest of the Asian country which still largely depends on exports to drive economic growth.