LAN launched a new flight between Easter Island and Lima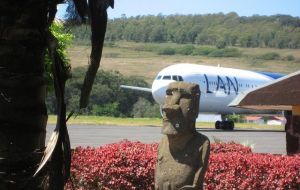 The first flight of the new route from Lima to Easter Island's Mataveri airport landed safely this week, making Easter Island a more accessible tourist destination.
More than 3,000 new tourists are expected to arrive in Rapa Nui for summer, 2011. The island's Chamber of Tourism's president, Mahina Teao Lucero, said that the new flight route from Lima, Peru is the main reason for this significant influx.
"The island's entrepreneurs have been greatly anticipating this flight, since it will mostly consist of American and European tourists who are interested in archaeology, "said Teao.
The inaugural LAN flight means that, for the first time, Rapa Nui is directly joined with a South American country other than Chile. This will allow a saving of three hours to travellers, who previously had to make a stop in Santiago.
"This incorporation of routes is very important to Peru, because it expands the possibilities for growth in the tourism industry," said LAN Peru general manager Jorge Vilches.
Meanwhile, Tourism Chile explained that this route should increase the target market of tourists travelling to Rapa Nui for its archaeology. "This will create a 'travel triangle' of Lima – Easter Island – Santiago, which will allow us to provide more seats to attract more tourists," said Debbie Feldman, responsible for Latin America.
According to LAN Airlines, there will be two weekly flights between Lima and Rapa Nui, on Wednesdays and Sundays.
Easter Island mayor Luz Sazzo said this flight path will benefit the local and national economy, but at the same time called for a strengthening of health and customs barriers to prevent the entry of pests to the island. "This is an opportunity to improve controls. Above all, with the (health authorities) at SAG... because if a disease enters, the island can be completely quarantined, "said the village chief. There is also the question of the immigration system, since tourists will not come through Santiago, and will therefore bypass police procedures.
Meanwhile, many indigenous Rapa Nui people continue to battle against what they say are plans to develop the island and increase immigration and tourism, which they see as the death of Rapa Nui's unique culture.
At least 25 people have been injured during clashes between Chilean police and local people on Easter Island in the last three months of 2010. Islanders have been occupying various properties, including one hotel, while the police head attempted evictions using pellet guns.
The mayor said that people are peaceful on the island and any recent problems were isolated incidents only. "We live on tourism and we want to position ourselves as a global product," he said.
By Pepa Gebanski – Santiago Times