New Royal Navy Icebreaker for Falklands and Antarctic patrol
Thursday, January 13th 2011 - 14:59 UTC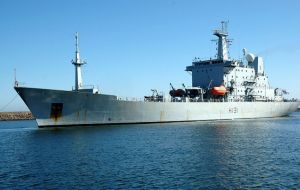 The Royal Navy has revealed it is replacing flood-damaged HMS Endurance with an icebreaker to be named HMS Protector.
A ship is being lined up to perform Endurance's ice patrol duties in the Antarctic after she almost sank two years ago. A spokeswoman confirmed the service has put out a commercial tender for an icebreaker.
An advert was placed with the European Journal of Contracts asking for expressions of interest. The new ship will be named HMS Protector, reviving the name of a Second World War vintage ship which patrolled the area in the 1950s and '60 until the introduction of the first HMS Endurance. She will be based in Portsmouth and will be able to fulfil the same tasks as HMS Endurance.
The official plan is to lease the ship as talks continue on whether to spend an estimated £40m to repair Endurance. However, the Portsmouth News reports that naval sources say the loan deal will be made permanent when officials decide to publicly announce Endurance will be axed.
Endurance almost sank off the coast of Chile in December 2008. A 15-month investigation revealed the flood was caused by a valve opening as crew made a filter change.
The ship was carried back home to Portsmouth on a transport ship from the Falkland Islands in April 2009 at a cost of £4m. Originally, the navy said it intended to repair the icebreaker but that now seems unlikely because of the costs involved.
In Endurance's absence, the navy deployed the ocean survey vessel HMS Scott as cover.