Punta Arenas: Two Dead, 32 Arrested In Early Hours of Massive Strike
Friday, January 14th 2011 - 03:40 UTC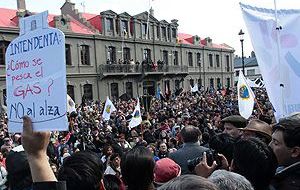 Roadblocks, fires, and looting attempts mark the social upheaval against announced cuts to natural gas subsidies
Wide scale protests that began just before midnight on Tuesday have shut down much of the Magallanes Region in southern Chile, cutting off exits from the regional capital of Punta Arenas and freezing most traffic within the city.
Though the indefinite strike organized by the Asemblea Ciudadana Magallanes was officially scheduled to begin early Wednesday morning, protesters began assembling roadblocks as early as Tuesday afternoon. Through the afternoon hours hundreds took to the streets with pots and pans to protest the national government's decision to cut back gas subsidies for the cold-weather region.
The public demonstrations took a tragic turn in the early hours of Wednesday morning, when a truck drove past three street barricades before running over a group of young protesters, killing two young women, 19 and 23, leaving a minor in critical condition and several more injured, as the victims were thrown in the direction of a fire. Local police on Wednesday evening continued looking for the driver.
In an attempt to keep order, police forces in the area arrested at least 32 people, five of whom were underage, and dispersed other large groups using teargas. Despite the government's announcement Tuesday that Special Forces would be sent to maintain order, no army presence or police reinforcement has been reported among the thousands of protesters now filling the streets of Punta Arenas.
Regional governor Liliana Kusanovic confirmed to local press the presence of scattered looting and roadblocks of fire throughout the region.
"We regret this behavior," said Mayor of Punta Arenas,Vladimiro Miminca, one of the leaders of the strike. "It was never the spirit of the people of the region to have violent demonstrations."
The mayor walked out of a six-hour negotiation with national government representatives on Tuesday, refusing to set a deadline for the dialogue.
"I was in no position to negotiate. [For the people of Magallanes,] gas is a necessity 365 days a year," Mimica said, referring to the region's bitter cold weather that lasts year-long.
"I don't know if in 20 or 60 days this Board will reach an agreement, but let's take whatever time is needed."
Rodrigo Ubilla, Chile's Undersecretary for the Interior, reportedly told Mimica that the government would by no means reverse its decision to cut gas subsidies for Magallanes, and that the only official offer on the table was to implement more gradual price changes.
"We are open to making the gas hike measure more flexible," Piñera spokesperson Eva von Baer announced Wednesday.
"The negotiation board is available. We believe the only way to communicate is through dialogue."
Though streets in Punta Arenas remain blocked, local police have confirmed that the situation is much calmer than late Tuesday night. By Wednesday afternoon, at least nine of the 32 arrested during the night demonstrations had already been
released.
By Ignacio Gallegos - Santiago Times