Chile: Mayor Critisized Piñera's Government for Invoking Security Law to Stop Protests
Monday, January 17th 2011 - 16:34 UTC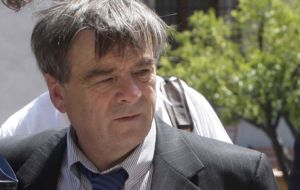 Vladimiro Mimica, Mayor of Punta Arenas, expressed that the measures taken by Sebastián Piñera's government to invoke the Security Law in order to stop protests in Magallanes due to gas price hikes were "an overaction and inopportune".
Local media made known that the Magallanes City Assembly had decided to open the access routes to the city of Punta Arenas, but that at midnight this decision was reversed and all routes were closed due to the announcement of the central government.
According to the newpaper La Nación and Radio Cooperativa, the Minister of Energy and Mining, Laurence Golborne, and the Sub Secretary of the Interior, Roseigo Ubilla, are expected to arrive in Punta Arenas sometime this morning in order to familiarize themselves with the situation that the city is in.
The Minister of the Interior, Rodrigo Hinzpeter, announced yesterday that the government will invoke the Security Law in the Magallanes region in response to the strike over the increase of gas prices because "it is our obligation to guarantee public order".
This measure was qualified by Mimica as "an overreaction and inopportune" since the people of Magallanes "have expressed themselves in a peaceful manner. There have not been any major problems or tragedies with the exception of the deaths of the two women which were the product of an accident".
"This is like trying to put out a fire with gasoline. We hope that nothing happens, that the citizens keep behaving as they have been, that they don't react in a violent manner over an incident that could signify in a particular moment a provocation", emphasized the city's leader.
Dalivor Eterovic, a spokesperson for the City Assembly said of the governmental measure that "the logic behind the application of this law makes no sense. This is something that could only be thought up by a government lead by Sebastián Piñera, which is an authoritarian, violent, right wing government that uses violence to solve its problems: he did it on Easter Island, at La Araucanía, and now he wants to do it in Magallanes".