Over 1.5 Million Latin Americans Infected by Dengue in 2010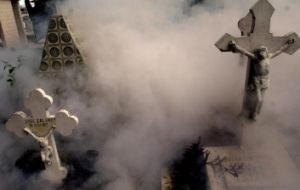 Latin American governments are increasing dengue prevention campaigns after more than 1.5 million people in the region were infected and over 1,000 died of dengue in the past year.
There have already been deaths from dengue fever this year, the most recent one in Perú, where the deaths are exceeding hospital capacity – and it has forced the city hospital to install 40 additional beds. The latest death brings to five the total number of dengue deaths in Perú this year.
In Bolivia, there were six dengue deaths in 2010. The country's health officials are in high alert after 17 were sickened by the disease so far this year, Health Minister Mauricio Rousseau told Efe. Dengue is transmitted by mosquitoes and can cause hemorrhaging or organ dysfunction.
"There were three deaths that may have been caused by dengue although they have not been clinically confirmed," Rousseau said. "But all indications have shown they were related to dengue."
In 2009, Bolivia suffered its worst dengue epidemic in 20 years, with 22 deaths and over 50,000 cases. In Brazil, the government recently announced it was launching a campaign to combat dengue. Although there are no stats for January, there were reportedly 1 million cases of dengue in Brazil in 2010, 15,000 of them hemorrhagic fever (which may lead to severe hemorrhage), with 550 deaths.
Brazil has shelled out about $640 million buying dengue medicine, fumigation vehicles, and larvicide, an insecticide used against mosquitoes, and education material, according to the news agency Agencia Brasil.
The dengue situation is also critical in Honduras, which had 83 deaths and 66,000 confirmed cases of dengue, 3,099 of them hemorrhagic. It was Honduras' worst epidemic in 30 years, according to Roxana Araujo, who runs a national dengue program for the country's health ministry.
"To try and prevent these deaths from dengue, we will launch a campaign on the 21st of this month in all of the country," Araujo said recently.
In Colombia, the most recent statistics by the National Health Institute showed that up to the 20th of December, there were 210 confirmed deaths from dengue, and 15 additional deaths are being investigated. There were 68,443 cases of classic dengue, and 4,952 cases of hemorrhagic dengue.
In Argentina, there were 50,000 people infected with dengue and about a dozen deaths. In Paraguay, there were over 20,000 people infect and 15 deaths. The country is on high alert this year of type 4 dengue, the most severe form of the disease, the minister of health said.
Dengue rates in other countries in 2010:
-- Venezuela has registered 123,000 cases of dengue, 10,203 of them hemorrhagic, a jump of 92 percent compared to the prior year, according to health ministry numbers given to the local press.
-- Ecuador had 4,000 people come down with the disease, and four deaths.
-- Dominican Republic, had 49 deaths, and 12,053 infections.
-- Mexico had 28,688 cases (22 percent of the hemorrhagic), and 47 deaths.
-- Guatemala had 16,863 suspicious cases, 203 of them hemorrhagic, with 41 deaths.
-- Nicaragua had 3,000 cases, 80 of them hemorrhagic, and nine deaths.
-- El Salvador had 8,979 cases, (a 20 percent jump from the year before) and three deaths.
-- Costa Rica had 27,000 cases, and one death.
-- Panama had 1,608 cases, and no deaths.
-- Cuba had 67 cases and no deaths.
-- Uruguay and Chile report they have had no severe cases of dengue. (EFE)