Controversial Body Scanner to be Used Shortly at Ezeiza and Santiago Airports
Tuesday, January 18th 2011 - 17:52 UTC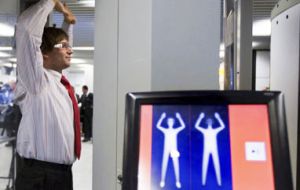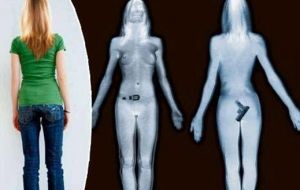 The Body scanner will soon be used by the Airport Security Police (PSA) at Argentina's main airport.
Airport Security Police is equipped with seven units which they will begin using at Ezeiza Airport and later on at Aeroparque, Mendoza, Salta, and Bariloche. Procedures published in the Official Bulletin indicated that this new technology will be used following specific guidelines.
These include having officers of the same sex as the passengers in question performing the scans as well as analyzing the images, and also that the scanners will only be used if there is sufficient reason to suspect that a passenger is carrying illegal drugs, explosives, or other prohibited substances or elements.
In approximately a month the body scanning system will start being used at the Arturo Merino Benitez terminal in Santiago de Chile. The machine will be used mainly in the fight against drug trafficking, and the scans will be carried out by the Investigations Police (PDI).
The PDI has already been using one of these scanners at the border station in Chacalluta, Arica since April of last year. Thanks to the use of this technology, 90 kilos of cocaine have been found in the stomachs of 65 traffickers, most of which were of Peruvian descent. Around 20 people are scanned each day at the border office in the northern zone.
Supporters claim that there are advantages to using the full body scanner as opposed to the traditional strip search as you can look for hidden objects without physically touching a person or removing clothes. However, the scanner has caused controversy world-wide due to the violation of people's privacy as the body appears almost nude in the images it provides. Opponents also object to the fact that this technology uses radio waves, the long-term effects of which are not yet known.