Impact of Rainfall in Brazil Is Worse Than That of Chilean Earthquake
Tuesday, January 18th 2011 - 16:59 UTC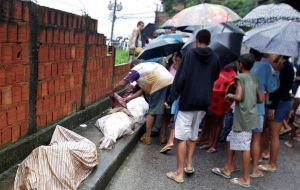 The torrential rainfall that Brazil has been experiencing for the past week has had an even bigger impact on the population than that of the earthquake Chile experienced in 2010, said a member of the military who had worked in Chile and now runs a makeshift hospital where victims of the worst natural disaster that Brazil has experienced are being treated.
The "impact to the people" affected by the storms and landslides that have killed over 700 Brazilians in the Rio de Janeiro region "seems worse" than that caused by last year's earthquake in Chile, said Carlos Mezquita, director of the hospital set up at the Nova Friburgo city hall.
The city of 185 000 inhabitants, founded during the XIX century by Swiss immigrants, was the most affected by the floods and took at least 318 lives.
"In Chile not all regions were reached by the earthquake, here everyone has suffered, it has affected 100% of the city" pointed out Mezquita. The tragedy has struck "both rich and poor alike" because although most of the affected areas were poorer neighborhoods located on the side of the mountains, there were fatalities in residential areas as well.
President Dilma Rousseff sent 700 members of the military to the affected region where there are 7 municipalities devastated by the avalanches that began last Tuesday.
The Minister of Defense, Nelson Jobim, is scheduled to visit the affected areas this Tuesday which count with several makeshift hospitals this, among these are those in the cities of Teresópolis and Petrópolis.