Chile and Peru Best Time in Bilateral Relations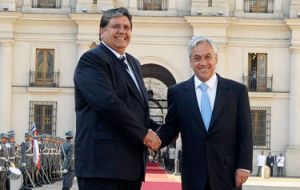 Chilean President Sebastian Piñera and Peru's Alan Garcia agreed on Wednesday to downplay Lima's suit against Santiago over maritime boundaries in favor of economic integration to combat poverty and underdevelopment. They instead outlined that bilateral relations are going through the best ever time, in term of relations.
Piñera on Wednesday at La Moneda palace received his Peruvian counterpart on a visit that came just two months after the Chilean leader's trip to Lima.
Appearing before reporters, Garcia acknowledged that during his meeting with Piñera the pair discussed the case that his country brought in 2008 before the International Court of Justice at The Hague to adjust in its favor the maritime border with Chile.
The leaders agreed that their countries will respect the ruling of the ICJ, stated that the lawsuit must not obstruct the rest of the common agenda and emphasized that the two nations are presently going through their best period in terms of bilateral relations.
"Peru and Chile are going to respect what the courts decide, and they are going to always be respectful of the law and international treaties," Piñera said.
"Peru should never fall into the condition of an international pariah" by not accepting the ICJ ruling, Garcia remarked.
Piñera defended his strategy of separating the maritime-boundary issue from the rest of Chile's relations with Peru, a stance that implies a shift from the approach of his predecessor, Michelle Bachelet.
"We're showing a modern, wise attitude of collaborating on what is of mutual interest and leaving at The Hague that which separates us," said the Chilean leader.
Garcia, whose term ends in July, also delivered a message to the winner of Peru's April presidential election.
"I hope that the next Peruvian government will continue along this line of affirmation and discussing at the highest level, directly, all the problems of our relationship," he said.
The Chilean leader said that the two countries "are not only at the best moment of their relations, but have a world of possibilities" before them, among which he cited bilateral trade, which in 2010 reached $3 billion for the first time.
Both Piñera and Garcia also praised the "healthy competition" between their countries in the economic realm.
"In 2010, 9 percent growth with 2 percent inflation; how's it going for you?" Garcia quipped to Piñera during their lengthy appearance before reporters in which the pair treated one another as friends.
The presidents also alluded to the important flow of cross-border investment, which has seen Chilean investors pour some $9 billion into Peru since 1990, compared with $3 billion in Peruvian investments in Chile.
"The enemies of Chile and Peru are the same: poverty, the poor quality of education and underdevelopment," said Piñera before bidding farewell to his Peruvian counterpart.."
.