Former Junta Leader Nicolaides Dies
Sunday, January 23rd 2011 - 23:07 UTC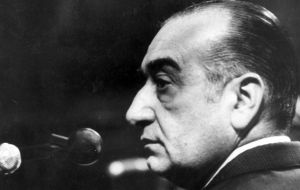 Cristino Nicolaides has died in the Argentine province of Cordoba, age 86. The former leader of the army was under house arrest for numerous of human rights abuses.
Nicolaides was a member of one of the military junta's which ruled Argentina from 1976 to 1983. Nicolaides came into power, as a member of the fourth military junta, following the conflict in the Falkland Islands in 1982, along with Ruben Oscar Franco, Augusto Jorge Hughes and led by President Reynaldo Bignone.
The former general was born in Cordoba city in 1925 and was currently under house arrest for numerous human rights violations. In March he was due to go on trial again.
Commencing on March 7th federal courts in Buenos Aires capital city were going to begin a trial into 33 cases of minor's theft, known as the "systematic plan" in which Jorge Rafael Videla, Reynaldo Bignone and other members of the military were also involved in.
In 2007 Nicolaides was sentenced to 25 years in prison for kidnapping and the disappearance of members of the Montoneros between 1979 and 1980, in the first trial, against former members of the military following the repeal of the so called due obedience laws. During the trial Nicoladies was found guilty of organised crime, kidnapping, torturing and being responsible for disappearances.
Nicolaides lawyer, Alejandro Zeverin told the press on Sunday afternoon that Nicolaides died on Saturday from a lung infection and has already been buried.