Argentine Farmers End Protest: For Now
Monday, January 24th 2011 - 04:52 UTC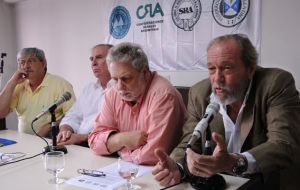 The farmers' strike which has been taking in place in Argentina for the past week ended on midnight Sunday but the leaders have warned that members of the relevant rural entities will meet in two weeks, to discuss further measures and that they do not rule out another strike. The current measures had put a halt to the sale of grains.
Leader of the Argentine Confederation of Rural Workers (CRA) Mario Lambías said on Sunday that workers will meet again in two weeks in the Entre Rios city of Gualeguaychu to decide upon further protests and has called for a mass demonstration. "Now that we have finalised our current measure, the farmers are not done protesting and are not likely to be given the present scenario."
Farmers began a weeklong strike last at midnight last Monday because of unhappiness over the export quota system, which they claim favours millers and large exports companies over farmers as they are paid below the international price by undermining competition in the local market.
Earlier in the week Eduardo Buzzi, head of the Argentine Agrarian Federation (FAA) said "we are going to propose a continuation of our measures if we don't get an immediate response from the government," adding "the president should listen to the producers and not judge us as an agriculture opposition party
In an interview published in the Argentine press, Agriculture Minister Julian Dominguez said "the farmers are not going to get us to change the measures we have taken."
He added "Argentine is on its way to a position in which the government will intervene more and more in grain trade, so as to guarantee sufficient supplies for the internal market."
Meanwhile, also over the weekend farmers protested outside a plant owned by Cargill near the main grains port of Rosario in Santa Fe province. Some 200 people on tractors staged a blockade and warned that they will carry out further protests if the government does not meet their demand to scrap the export quota system. According to the farmers Cargill is one of the companies making enormous profits from the government's farm policies.
Argentina is the world's third biggest soybean supplier and second corn provider after the United States. The strike comes just nine months before presidential elections in which President Cristina Fernandez de Kirchner is expected to seek re-election. Numerous protests in 2008 by farmers led to a drop in her popularity as many members of the general public sympathised with the farmers. It also hindered the nation's grain shipments at the peak of the harvest.