Colombia Committed to Improving Human Rights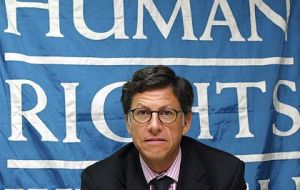 Guaranteeing respect for human rights in Colombia is the "common purpose" of Non-governmental Organisations (NGO) and the government, Colombia's defence minister said, responding to Human Rights Watch (HRW).
"The Colombian government considers the NGOs, allies of the government and of Colombian society in the common purpose of ending all forms of violation of and abuse of human rights on Colombian soil," Defence Minister Rodrigo Rivera said in a press release.
The minister stressed that HRW primarily blamed illegal armed groups like the FARC for the violation of human rights.
"We agree with Human Rights Watch on a key diagnostic which is that the main violators of human rights in Colombia are the narco-terrorist organizations and criminal groups," Rivera said.
Meanwhile, on a visit to Paris, Foreign Minister Maria Angela Holguin, accompanying President Juan Manuel Santos and speaking to Colombian media by telephone, said "the government is committed to continue working, in the best possible way," with organisation's such as HRW "because all the efforts we are carrying out to improving human rights in the country, are not enough," she added.
"We have noted in change in attitude, in tone, a much more open attitude and willingness to discuss human rights by Santos' government," said the Americas Director of HRW Jose Manuel Vivanco on Monday, when the entity presented their annual report.
"However, unfortunately, we have not seen a change in abuses. We think the government should do more," said Vivanco.
According to HRW the number of social leaders murdered or being persecuted "continues to grow" in Colombia, a country, submerged in armed conflict for half a century, the same as massacres and attacks against "those who promote fundamental rights and union activity."
HRW director Jose Manuel Vivanco on Monday sent an open letter to Colombia's Vice President Angelino Garzon to invite him for a meeting while visiting the United States next week. The vice president had not yet responded to the invitation.