President Obama Announces Trip to Brazil, Chile and El Salvador For March
Wednesday, January 26th 2011 - 23:51 UTC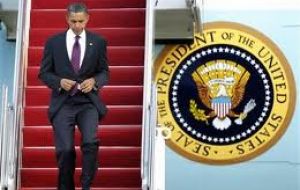 United States President Barack Obama has announced that he will pay his first visit to Brazil and other South American countries in March.
Obama said in his State of the Union address to the congress that his trip to Brazil, Chile and El Salvador is aimed to forge "new alliances for progress" across the Americas.
"This March, I will travel to Brazil, Chile, and El Salvador to forge new alliances across the Americas," the president said Tuesday night.
It will be his first visit to South America and his third visit to Latin America. In 2009 he travelled twice to Mexico and participated in the Summit of the Americas in Trinidad and Tobago.
The journey will be "an important opportunity to strengthen our alliances in the Americas," National Security Council spokesman Mike Hammer said.
In Brazil, Obama will meet with new President Dilma Rousseff to discuss areas of mutual interest and contribute to developing the "excellent relationship" between the two countries, Hammer said.
Among the areas where US-Brazilian ties are strong, he cited clean energy, global growth, assistance to Haiti and development efforts.
In Chile, Obama will meet for the first time with President Sebastian Piñera to discuss greater bilateral and regional cooperation.
Chile, Hammer emphasized, "is one of our closest partners in Latin America" and has quickly become a regional leader in the area of nuclear security, clean energy and crisis management.
The third phase of the trip, El Salvador, will enable Obama to meet with President Mauricio Funes and to emphasize the "tight links" between the two countries, which are cemented by the large number of Salvadorans in the United States and the economic activity that they contribute to creating, Hammer said
In his speech, Obama also touted his efforts to revitalize NATO, reset relationship with Russia, and build new partnerships with nations like India.