Chavez and Mujica Meet and Sign Numerous Bilateral Agreements
Thursday, January 27th 2011 - 21:08 UTC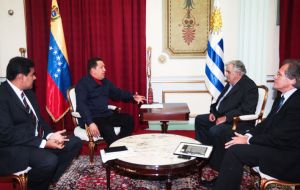 Uruguayan President Jose Mujica is visiting Venezuela and today held talks with President Hugo Chavez at the Miraflores presidential Palace.
Chavez greeted Mujica with a warm embrace and said "the people of Venezuela, welcome you," referring to Mujica as an "example of the perennial fighter of the fatherland, union and social justice."
Mujica and Venezuela's president discussed training programmes for farmers and genetic technology for the development of cattle ranching, according to the state-run AVN news agency.
They signed thirteen agreements including technical-scientific exchanges, dairy farming, and telecommunications, exporting of Uruguayan made vehicles, ports, energy, culture and work, all part of strengthening bilateral relations.
Mujica was also reported to have said he backed Venezuela's joining Mercosur and expressed his wish for the Venezuelan Economy Minister Ali Rodriguez to become general secretary of UNASUR, which is currently vacant, following the death of Argentine Nestor Kirchner.

Venezuela and Uruguay have sought to strengthen diplomatic ties and economic cooperation since Mujica, a former leftist guerrilla leader, took office last year.
Venezuelan Foreign Minister Nicolas Maduro met Mujica upon his arrival on Wednesday at Simon Bolivar International Airport.
Last year, Chavez said Venezuela would renew a deal to sell Uruguay up to 40,000 barrels of oil a day under preferential terms.