Cuba: Reportedly Still Holding A Hundred Political Prisoners
Friday, January 28th 2011 - 19:13 UTC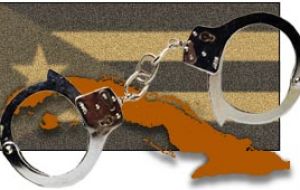 The Cuban Commission on Human Rights and National Reconciliation says that the island's communist government is still holding a hundred political prisoners, in spite of releasing numerous imprisoned dissidents last year.
The commission released a new report Thursday on the human rights situation in Cuba, saying "low-intensity repression" increased last year with 2,074 brief, arbitrary arrests.
The overall situation concerning respect for civil, political, economic and cultural rights remains "negative" for the vast majority of Cubans, the commission said, adding that it likely will get worse in the short term.
In terms of political prisoners, the commission documented at least 105 cases of people held for political or socio-political reasons, compared with 201 in January 2010.
The drop is due to the release of dozens of dissidents beginning in the second half of 2010 following talks involving President Raul Castro's government and Spanish and Catholic Church officials.
The commission described Havana's move as a "positive development."
Fifty-six people formerly held behind bars on the island – 41 of them considered prisoners of conscience by Amnesty International and who were part of a group of 75 dissidents rounded up in 2003 – have left prison "for exile in Spain" in recent months, accompanied by 323 family members, according to the commission.
However, 11 Group of 75 members who have refused to go to Spain remain behind bars, while eight other dissidents have been paroled in recent years but their sentences have not expired.
One of these cases of short-term, arbitrary detentions was Wednesday's arrest in the central city of Santa Clara of Guillermo Fariñas, winner of the European Parliament's 2010 Sakharov Prize for Freedom of Conscience.
In a telephone interview from his home in Santa Clara, Fariñas said Cuban police on Wednesday arrested him and 22 others who were protesting the eviction of a single, pregnant mother of two who had moved into an abandoned home, accusing them of causing a "public disturbance."
Fariñas said the woman had requested assistance from human rights groups and that he and his colleagues had responded to her plea for help.
Hundreds of people joined the protest, according to Fariñas, who said that at one stage he climbed onto a Cuban public health official's vehicle to express his criticism of the communist government.
Cuba's political police subsequently arrested Fariñas and the other protesters and took them to different nearby police stations.
The dissident said he was not mistreated during his time in custody but was issued a warning and returned home after being held for six hours.
Last February, after jailed dissident Orlando Zapata Tamayo died following an 85-day fast, Fariñas went on a lengthy hunger strike – one of more than a score he has staged over the past 15 years – to demand the release of the most ill political prisoners.
He ended the hunger strike on July 8 after Castro's government promised to release 52 jailed dissidents following the church-state talks.
Havana denies holding political prisoners and says the island's dissidents are mercenaries working with Washington to undermine Cuba's communist system. (EFE)