Death Toll From Cholera in Haiti Nearly At 4,000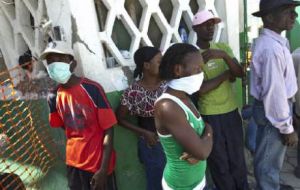 Over 3,900 Haitians have died of cholera since the outbreak began mid-October, officials in the western hemisphere's poorest nation informed.
The disease has spread to all 10 of Haiti's provinces, infecting 199,497 people. Of the 112,656 patients requiring hospitalization, 110,031 have been successfully treated and released.
Artibonite, the northern province where the outbreak began, accounts for 852 cholera deaths, while 632 fatalities have been registered in Ouest province, including Port-au-Prince, where hundreds of thousands remain in camps more than a year after the devastating earthquake that claimed some 300,000 lives.
Only one of the 239 cholera cases detected in the neighboring Dominican Republic has resulted in death.
Though the origin of the outbreak remains unclear, French scientists traced it to a unit of Nepalese soldiers serving with the U.N. Stabilization Mission for Haiti.
The Nepalese troops are suspected of dumping untreated human waste into a river that was the area's main source of drinking water.