President Chavez Denies Plan to Nationalise Bank
Sunday, January 30th 2011 - 20:57 UTC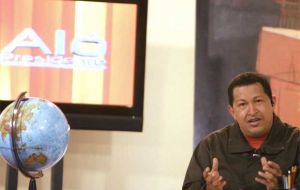 Venezuelan President Hugo Chavez has said that he has no plans to nationalise the Banco Provincial, the Venezuelan affiliate of Spain's Banco Bilbao Vizcaya Argentaria, or BBVA.
"I have no plans to nationalize that bank (the Provincial), but he was pretty arrogant," Chavez said, referring to the president of the BBVA affiliate, Pedro Rodriguez.
Chavez was alluding to some sharp words he exchanged last Wednesday with Rodriguez, whom he telephoned during a TV broadcast and asked him to meet with the victims of an alleged real estate swindle, and warned him that if the Banco Provincial did not obey the nation's laws it would be nationalized.
"I called to ask him to attend to those people, but Rodriguez was pretty arrogant," the president said, adding that the Venezuelan Banking Association, to which the Banco Provincial belongs, was willing to collaborate with the government to finance the construction of a million homes.
Chavez said that besides the fact that there was "a tense moment," the incident "was exploited to the maximum by the media and the right." He said that the first thing Rodriguez did was demand that his voice also be heard on the air during the broadcast because "he was annoyed." After some further exchanges, Chavez said "Pedro, I'm not going to discuss this with you any more...listen, I'm asking you to attend to those people, and if you don't have time or you can't do it, then tell me how much the bank costs and I'll buy the bank from you." "I answered the way I did to put him in his place," the president said on Saturday, recalling that Rodriguez told him that the bank was not for sale.
The president said that afterwords Rodriguez "came to meetings with Vice President Elias Jaua on the best of terms." "Jaua told me he had apologized, that the phone call had taken him by surprise. That's fine, we accept his apologies. I spoke very harshly too and I send my apologies," the president said.
Representatives of the Banco Provincial have been meeting with the group of victims that complained of the bank's alleged responsibility in the suspected real estate fraud, and have said that the groundwork has been laid for reaching an agreement.