Chilean government aggressive campaign to re-launch tourism in Magallanes region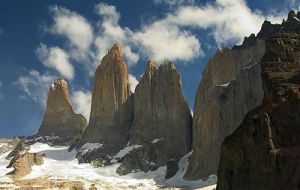 The Chilean government is involved in an aggressive campaign to bolster tourism in the Magallanes region and absorb the impact of the recent protests in the extreme south of the country that paralyzed all activities in the area for several days.
The gas rates increase conflict with the central government in Santiago led to street clashes and an all business black out in Magallanes that triggered a massive cancellation of hotel and other activities bookings.
According to Chile's National Tourism Service (Sernatur) during the several days long civil strike which among other things left several thousands of neighbouring Argentines stranded, over 60% of hotel bookings were cancelled and the number of visitors to one of the region's main attractions, Torres del Paine Park plummeted 52%.
Preliminary figures show that the number of visitors to Torres del Paine dropped from 31.257 in January 2010 to 14.800 this first month of 2011.
The Chilean government through its Sernatur (National Tourism Service) Office contacted the different embassies in Santiago to inform that the conflict was over and conditions for tourism and visitors were back to normal.
Chile's Country Image Foundation also met with foreign reporters stationed in Santiago to help inform it was all back to "business as usual" in Magallanes region and in Punta Arenas. This apparently helped to stop the cascade of hotel booking cancellations.
Nevertheless authorities admit that the overall summer season balance will be highly negative since the greatest number of tourists visit the region during January, 60% of which are foreigners.