British scientists develop blood test for the human version of BSE (mad cow)
Thursday, February 3rd 2011 - 17:31 UTC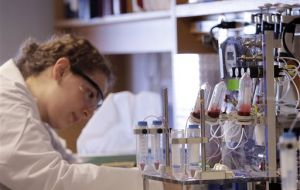 The first reliable blood test for the fatal Variant Creutzfeldt-Jakob Disease (vCJD) – said to be 100,000 times more accurate than the current method – has been developed by British scientists.
Affecting around 15,000 people, although up until now it has been impossible to know if this figure was correct, vCJD is the human version of Bovine Spongiform Encephalopathy (BSE), also known as mad cow disease, and attacks the brain.
Dr Graham Jackson from the Medical Research Council Prion Unit University College London – whose research was published in The Lancet – told the BBC: "This test could potentially go on to allow blood services to screen the population for vCJD infection, assess how many people in the UK are silent carriers and prevent onward transmission of the disease."
BSE first appeared in humans in 1995 and is thought to have been passed from cattle through infected food. Out of 220 cases reported worldwide, 174 are British.
UK National Health Service figures show that the disease tends to affect people in their 20s and peaked in 2000 (28 deaths), with the number of cases now on the decline.
The new blood test is 100,000 times more sensitive than previous tests and experts believe it could transform screening and diagnosis of the disease.
"The test is the result of years of meticulous, painstaking research, although further larger studies are needed to confirm its effectiveness, it's the best hope yet of a successful early diagnostic test for the disease", said Dr. Jackson.
The research team has published details of their prototype test in The Lancet medical journal and now plan to test samples from several thousand blood donors.
Professor John Collinge, director of the MRC Prion Unit, added: "Longer-term studies will also be needed to assess what proportion of individuals who test positive for prion infection will then go on to develop the disease later in life".
Prions, which cause vCJD and other fatal diseases, can inhabit a person's body for 50 years before presenting symptoms. So there has always been a suspicion that the true scale of the vCJD infection has remained hidden. A study of tonsil samples suggested that 1 in 4,000 Britons might have the disease, but no-one really knows whether that is an accurate estimate.