Spain celebrates 20th anniversary of Cervantes Institute in 44 countries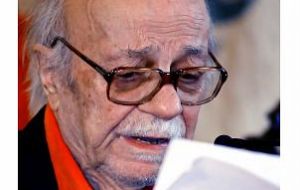 Spain's Cervantes Institute to promote Spanish language and culture is marking its 20th anniversary with more than 6,500 activities at the 77 centres is has opened in 44 countries and among this year's plans is the inauguration of a centre in Gibraltar.
During the two decades since its founding, the Institute "has become the home of all Hispanic-American creators," as proven by the fact that Peruvian writer Mario Vargas Llosa greeted the world from the Cervantes Institute in New York after winning the Nobel Literature Prize.
On Tuesday in Madrid, Carmen Caffarel, the Cervantes director, commented on Vargas Llosa's New York appearance in informing the press of the Institute's activities scheduled for this year.
The Institute on July 18 will hold the fourth edition of the "Day of Spanish" and throughout 2011 will commemorate the 25 years since the death of Jorge Luis Borges and the centennial year of Argentine writer Ernesto Sabato.
The film cycle "Fantasias orientales en el cine español" (Eastern fantasies in Spanish film), co-organized with Casa Arabe, will be one of the activities that will foster dialogue between civilizations, and the film program entitled "Espacio femenino" (Feminine space) will serve to illustrate the work that women are carrying out in this area.
In 2010, the Institute had more than 65 million people participate in the scheduled 6,200 cultural activities and this year officials are confident that the spread of culture in the Spanish language will not be affected by the reduction in its global budget for 2011, which is set at 102.8 million Euros, 2.2% below last year.
Caffarel said that during 2011 the Cervantes Institute will inaugurate centres in Krakow, Poland, and Hamburg, Germany, which are being established as affiliates of the centres in Warsaw and Bremen, respectively, but which – given "the volume of ... activities" being carried out there – "have become independent centres".
The Institute is also planning to inaugurate the Cervantes centre in Gibraltar and facilities in Dakar, Senegal, and Nicosia, Cyprus.