World leading plywood company to double exports from Uruguay's mill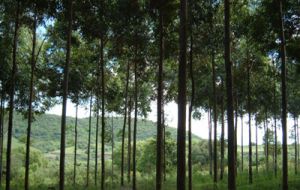 Shipments of Weyerhaeuser's Lumin plywood to Europe will double in 2011 following a large investment at the company's mill in Uruguay.
Weyerhaeuser said its Lumin plywood mill in Uruguay is increasing production to meet demand for the product, which is FSC-certified. PEFC certification is expected to follow later this year.
"To ensure continued sustainability of supply we have invested heavily in the infrastructure and operations in Uruguay and committed a high proportion of the increased volume to Europe," said John Guerin, Weyerhaeuser's European commercial director.
"As the plantations mature over the coming years, we will be able to deliver to market high grades of Lumin plywood."
Weyerhaeuser said the expansion will allow it to further develop its pan-European distribution network.
Lumin is produced with either a eucalyptus or pine face and in 14 grades.
The company has more than 140,000ha of eucalyptus and pine plantations in Uruguay.
Weyerhaeuser headquartered in Federal Way, Washington was founded in 1900 and now has offices or operations in ten countries including US, Canada, Australia, New Zealand, China, Mexico, Ireland, France and Uruguay.
It is one of the largest pulp and paper companies in the world and the largest private sector owner of softwood timberland and the second largest owner of United States timberland. Revenues in 2008 totaled 16.8 billion US dollars.