Russian chartered polar vessel supports Argentine Antarctic 2010/11 campaign
Tuesday, February 8th 2011 - 21:00 UTC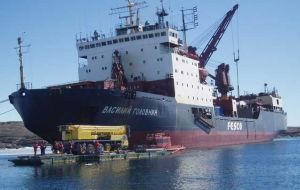 Argentina in this 2010/11 campaign has been supplying Antarctic bases and stations with support from a Russian polar vessel equipped with an icebreaking bow and its own Navy units.
Chartered Vasily Golovnin with support from icebreaker Captain Dranitsyn have been in charge of supplies for the most extreme settlements, closest to the South Pole, while amphibious cargo ship ARA Canal de Beagle together with the oceanographic vessel "Puerto Deseaso" have been responsible for the least demanding logistics.
"Vasily Golovnin has already delivered provisions at the Orcada base and further south at Belgrano II with support from icebreaker Captain Dranitsyn", said Tatiana Kulikova, spokesperson for the company in Far East Russia that chartered the Antarctic summer services.
Belgrano II in the Weddell Sea received fuel, equipments and provisions for other stations in the area, added Ms Kurikova who said that sometimes supplies must be delivered by the vessel's KA-32 helicopter.
Good weather allowing "Vasily Golovnin should complete the supplying of the polar bases of Camara, Primavera, Brown and Decepcion; our contract runs until March".
During her first incursion, having left Ushuaia January 18, the Russian vessel has transported tons of supplies, fuel and a group of sixty scientists. On her way back she will be loading 500 tons of residues, as demanded by the Antarctic Treaty.
Meantime in Ushuaia the Argentine Navy oceanographic vessel ARA Puerto Deseado will change crew and load cargo and equipment for another scientific cruise to the Orcadas and Jubany bases. Among other duties the vessel is involved in the surveying of Argentina's and Antarctica's sea platforms, research on krill, plankton samples, water temperature and salinity, and collecting information on climate change.
Complying with international agreements ARA Puerto Deseado also was involved in a bathymetric survey next to the Laurie and Coronation Islands for International Charter 9140, South Orkney Islands, reported the Argentine Navy.
The other vessel involved in Antarctic logistics is the 1978 Argentine built amphibious cargo ship ARA Canal de Beagle with a 10.800 tonnage displacement.
The Argentine government has been forced to appeal to chartering Antarctic services since its icebreaker "Almirante Irizar" caught fire, (virtually a total loss) on her return to Argentina at the end of the 2006/07 Antarctic campaign.