Unasur becomes fully in force March 11, following on Uruguay's ratification vote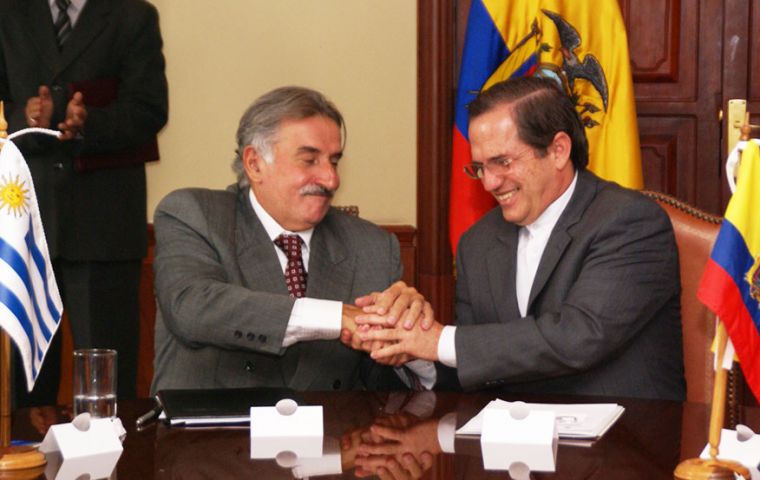 The Uruguayan government officially delivered this week the formal ratification of the UNASUR (Union of South American Nations) founding charter thus turning the political project into juridical reality.
Uruguay's ambassador in Quito, Enrique Delgado, handed the documents approved by the Uruguayan legislative to Ecuador Foreign Affairs minister Ricardo Patiño during a ceremony at the Ambassadors Council Chamber in the Andean country's Foreign Affairs ministry seat
According to Article 26 of the treaty, Unasur becomes effective 30 days after the ninth member delivers ratification document to Ecuador that is the depositor of the members' official signatures.
This in practical terms means that next March 11 the treaty enters fully in force and with it the Union of South American Nations, Unasur, becomes a new international organization capable of having buildings and contracting staff. It also includes bank accounts which so far have impeded sending Unasur promised collective aid to Haiti.
Ecuador that temporarily holds the Secretary General post is scheduled to convene a Unasur Foreign Affairs ministers meeting next April to celebrate the birth of the organization as a juridical entity and for the founding stone ceremony of its official headquarters to be built north of the Ecuadorian capital of Quito.
The offices are to be occupied by the new Secretary General and his support staff even when it's not clear who will be elected for the post since country members have yet to agree who is to replace the deceased first secretary former Argentine president Nestor Kirchner.
Two are the main candidates for the vacant spot that must be filled by unanimous support: Venezuela's former Oil and Energy minister Ali Rodriguez Araque and Colombia's former Foreign Affairs minister Emman Mejia.
Uruguay's legislative ratified Unasur founding charter and treaty November last year as had been done previously by Argentina, Chile, Guyana, Peru, Surinam, Bolivia, Venezuela and Ecuador.
During the ceremony Ambassador Delgado underlined that Unasur has proved to be "a fundamental tool for stability, democracy and peace in the region".
Minister Patiño said "we have become an only country" adding that "given the circumstances, problems and threats, there's a conglomerate of countries that enables us to live more peacefully with security and democracy".
Since last November Guyana holds the Pro Tempore Presidency of UNASUR.