Unilateral Fact II
Saturday, February 12th 2011 - 12:44 UTC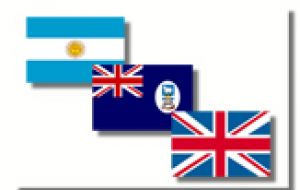 Mr. Andres Cisneros's reply to the article "Unilateral Facts" by Dr. Graham Pascoe and myself last Sunday in the BA Herald, (Jan 21st and Feb 6th in MP), does not answer our points adequately. Our article was specifically about Argentina's hypocrisy in using UN Resolution 31/49 to criticise Britain's acts as "unilateral". Instead he launches a general anti-British diatribe, and makes a number of errors. The worst are as follows.
Those responsible for the 1982 war were not tried for starting it, but for losing it. The charge was mismanagement. If Argentina had won, Junta members would not have been tried for anything, and so would have got away with their crimes against humanity too. They would have been national heroes, and would probably have gone on to settle the Beagle Channel dispute with Chile by force – as they tried to do over Christmas 1978, after an international court of arbitration had decided the dispute in Chile's favour.
The inclusion of the Falklands in European Union Treaties cannot be compared with the claim in the 1994 Argentine Constitution. The overseas territories of all European countries were included in EU treaties from the time when the mother countries concerned joined the EU. Britain joined the EU in 1973, so Britain's territories, including the Falklands, were already in the EU when Resolution 31/49 was passed by the UN. Subsequent EU treaties mentioned them, but changed nothing, and so were not "Unilateral Acts". The EU treaties did not, however, impede negotiations with Argentina; negotiations were actually going on when Argentina invaded the Falklands in 1982.
The claim in the 1994 Argentine Constitution is totally different. It postdates Resolution 31/49, and specifically claims the Falklands. It was a unilateral act, as prohibited by 31/49. It means that any negotiations would sooner or later have to lead to a total handover of the Falklands – and South Georgia and the South Sandwich Islands. This will probably prevent negotiations from ever starting.
Oil is the current bone of contention, and Mr. Cisneros was a junior minister in the Argentine foreign ministry when the 1995 Oil Agreement was signed. He should know that that agreement had to be vague to get an agreement at all. But it clearly allowed Britain to manage oil exploration within its own waters. Companies operating in Argentina bid for Falklands licences with the blessing of the Argentine government. And there was no criticism from Argentina of the drilling programme in 1998.
Britain's control in its own waters under the 1995 Agreement is confirmed by the fact that there is a shared area straddling the border designated for special Argentine/British cooperation. A shared area would have been unnecessary if the agreement had intended that Argentina should share in British waters as such.
That said, Argentine companies could still be involved in the Falklands oil industry now, to the benefit of all concerned – it is Argentina that is preventing this, not Britain.
Mr. Cisneros is seriously wrong about the events of 1833. Britain did reassert its sovereignty then, because of the raid on the Falklands by the USS Lexington a year earlier. Most of Louis Vernet's settlers left in the Lexington. So there were only about 25 people, most of them gauchos, in Vernet's establishment when HMS Clio arrived. And Captain Onslow of the Clio had orders not to molest civilians.
So Britain did not threaten "all the Argentine inhabitants, women and children included". In fact, Captain Onslow was very anxious that the civilians should stay, so that the gauchos could continue hunting the wild cattle and supplying fresh beef to visiting ships.
Onslow only expelled the Argentine garrison of 26 men (with 11 women and 8 children, who were never in any danger) and the ship that had brought them. They had left Buenos Aires in late September 1832, provoking a diplomatic protest by Henry Fox, the British minister there. They arrived in the Falklands on 6 October 1832 and left again on 4 January 1833. So the garrison had been there less than three months, and in that time it had mutinied, murdered its commanding officer, plundered the settlement, and terrified the civilian inhabitants. Seven men were executed for this on their return to Buenos Aires. Such a group cannot be considered a genuine population at all. Only two gauchos chose to leave with them: Joaquin Acuña and Mateo González and their women Juana and Marica. All the others stayed. They did not feel threatened.
There were three women among the gauchos that stayed on. One, Carmelita, had children. She stayed in the Falklands until her death in 1845. Her children are last mentioned in the 1851 census, after which they must have left. Another who stayed in 1833 was Antonina Roxa, who was described as "half Indian". She went on to become a rancher and died in Stanley in 1869. The last survivor of those who were there in 1833 was Gregoria Madrid, who died in Stanley in 1871. They probably did better under Britain than they would have done under Argentina.
Argentina has misrepresented the facts of 1833 for decades, misleading the United Nations and many individual countries. By pretending that Britain expelled an Argentine "population" in 1833 Argentina has sought to disqualify the present population from the right to self-determination.
But it is self-determination that allows Britain to remain in the Falklands, not force as Mr. Cisneros claims. Britain remains there by the will of the Falkland Islanders, some of whose families have now lived in the islands for nine generations. Mr. Cisneros doesn't even consider them worthy of a mention. They did not replace an expelled population. They have as much right to be there as Argentines have to be in Argentina – if not more so. In Argentina a major, and well-established, native population was largely exterminated to make way for the European immigrants whose descendants make up the Argentine population today. Have a look at an Argentine 100-peso bill – it depicts the triumph of the campaign of slaughter.
Last but not least, Mr. Cisneros makes a plea for discussions, or an academic debate. Argentine Ambassador Federico Mirré did organise a presentation and debate in December 2007 at the London School of Economics, which was attended by many Argentines and two officials from the British Foreign Office. But it was one-sided and presented the false history that Argentina is so fond of. Ambassador Mirré himself erroneously stated that Britain had expelled an Argentine population in 1833.

Dr. Pascoe and I made a presentation at the LSE in May 2008, to reply to that Argentine presentation. But only a handful of Argentines came – and no one from the Argentine Embassy. They just weren't interested in hearing the other side of the argument.
I am often in Argentina, where I have studied the Falklands dispute for 12 years now. I have discussed Falklands' history extensively with major figures from the Malvinas lobby in Buenos Aires. I have on several occasions offered to make a historical presentation, but minds seemed to be closed on the subject.
By Peter Pepper - London
Unilateral facts, indeed By Andres Cisneros
Unilateral Facts By Graham Pascoe and Peter Pepper