Jiggers queue early for the Falkland Islands Illex squid licenses
Tuesday, February 15th 2011 - 18:57 UTC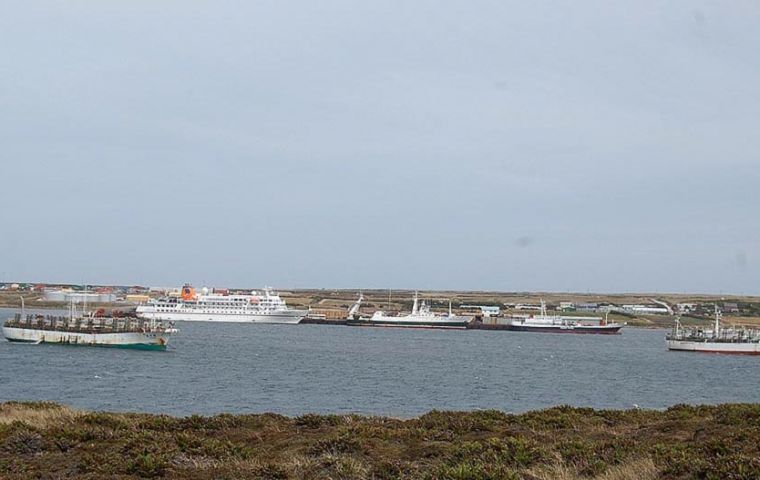 MORE than thirty, mainly Taiwanese, jiggers crowded into Stanley Harbour early this week prior to the beginning of the Falkland Islands Illex fishery season.
The season begins tonight and the Falkland Islands Government Fisheries Department expects further visits from jiggers in order to collect licenses.
The Director of Natural Resources John Barton told the Islands Radio Station that there is a reasonable level of interest in licenses, "however it is still early days."
Mr Barton commented that it was quite unusual to have the vessels coming in this early which might reflect the fact that catches on the high seas have been poor recently.
Last year around 70 vessels purchased licenses; significantly more than 2009 when 46 were allocated.
The Illex season of 2009 was the worst in the history of the Falklands fishery with a total catch of 45 tonnes. All companies issued with Illex licenses (B-licenses) were reimbursed, resulting in a significant reduction in Falkland fishing revenues.
Prior to 2006 when Illex was often more plentiful the Falkland Islands Fisheries Department would allocate anything between 70 and 125 licenses – catches are always unpredictable however, one year producing 85614 tonnes (2006) while another only 1720 tonnes (2004).
Predictions for the coming Illex season have not been optimistic so far; the Falkland Islands Fisheries Department scientists told Mercopress recently that analysis of the oceanographic situation on the High Sea shows that the Falkland Current is less intensified and has shifted offshore and thus not creating strong hydrological frontal zones between warm shelf waters and cold Sub-Antarctic waters of the current. Illex tends to concentrate near these frontal zones in common years, which is not the case this year so far.
Background
The Illex squid-Licence authorises the catching or taking within the northern area and the Falklands Outer Conservation Zone of Illex argentinus and Martialia hyadesi.
Falklands waters are normally noted for their squid production. Squid usually account for around 75% of annual catches of some 200,000 tonnes, and are destined for markets in Europe and the Far East. The balance of catches consist of various finfish species including Blue Whiting, Hake, Hoki and Toothfish.
Illex argentinus squid are fished principally by specialist squid jigging vessels from the Far East. (Loligo gahi squid are fished mainly by trawlers registered in the Falklands and owned jointly by Falklands and European companies.)
The Falkland Islands Government made around £11.4 million from the sale of fishing licenses last year. In the late 1980s and early 1990s the government had an annual income of between £29 million and £20.5 million.
By Lisa Watson - SeAledPR - Stanley