New CPI basket eases China inflation; Beijing says it has abundant grain reserves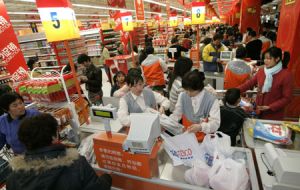 China said on Tuesday consumer prices rose 4.9% in January, a lower-than-expected figure. According to data released by the National Bureau of Statistics (NBS), the Consumer Price Index (CPI), the main gauge of inflation, was 0.3 percentage points higher than in December but still lower than November's 28-month-high of 5.1%.
The lower-than-expected figures were attributed by economists to a re-weighting of the basket of goods used to measure the CPI, discounting the impact of rising food prices.
"There is no question that the real inflation figures would be much higher" said Wang Youqin, an economist at the influential China Centre for Economic Studies at Shanghai's Fudan University.
"By keeping the CPI at 4.9%, the government is trying to manage the public's expectations by keeping it below the 5% threshold".
According to NBS, food prices rose 10.3% year on year and grain prices rose 15.1%.
Unlike many other countries, China does not release detailed information on what constitutes the basket of goods used to calculate the CPI. NBS said on Tuesday, food prices earlier accounted for one-third of the basket of goods, and that it had reduced the weighting by 2.21 percentage points. It did not, however, specify either the basket's new contents or their respective weights.
Mr. Wang and other economists have called on the NBS to improve transparency. "There is public distrust with the government's figures, and the basket is not transparent," he said. "Based on experience, whether in markets or restaurants, people will have their own expectations."
"The NBS changes the basket from time to time, but no one knows where the data comes from," he added. "There are no independent sources of information."
Mr. Wang said raising interest rates and tinkering with monetary policy would not address the issue in the long-term. "The government needs to do something substantial in terms of economic reform," he said. "For one, there is a need for deregulating monopolies in the State sector, which still has most of the money. Restrictions on labour mobility also need to be relaxed, because they are driving up wages. If we don't address these bottlenecks, the problem will not go away."
On Tuesday, the Chinese government also sought to address global concerns that the drought across eight wheat-producing provinces would drive up food prices, following a warning issued by the United Nations FAO last week.
"China is self-reliant on food," Foreign Ministry spokesperson Ma Zhaoxu told a regular press briefing.
Continued bumper harvests for the seventh straight year and "abundant reserves" would ensure that China met its demand. A "small amount" of Chinese imports, imported under its quota, would not impact international food prices.