UK/Spain holds talks on ways to re-launch trilateral dialogue with Gibraltar
Tuesday, February 15th 2011 - 20:17 UTC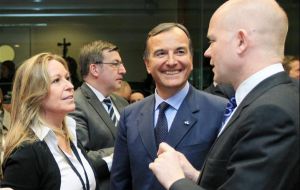 The Spanish media revealed that Spain's Foreign Minister Trinidad Jimenez will be in London this coming Thursday to meet with her UK counterpart William Hague for a bilateral meeting on various international issues including Gibraltar.
The reports say they will look at ways of breaking the impasse in the trilateral talks (UK, Spain and Gibraltar) that has followed incursions by Spain into Gibraltar waters including some dramatic clashes between the RGP and Guardia Civil. Such incidents have nonetheless ceased since before the New Year when Peter Caruana Chief Minister made clear he was not prepared to discuss co-operation in relation to areas, i.e. those affected by waters sovereignty questions, where Spain had breached the status quo under which the talks had first been initiated.
Spain does not accept Gibraltar is an interlocutor on sovereignty issues but all sides are keen that the trilateral process co-operation should move forward.
Britain has made clear its undertaking not to discuss sovereignty with Spain without Gibraltar's express support and consent and it is understood that the focus will be to see how the two new foreign ministers can return the situation to one that is acceptable to all three parties with a view to a trilateral ministerial and a return of waters related issues, be they environmental or judicial, to the co-operation discussions.
Only two weeks ago British Minister for the Armed Forces Nick Harvey ratified that the UK Government had a permanent commitment to the defence of Gibraltar and to the continued maintenance of a permanent joint operating base.
Mr Harvey said that the UK Strategic Defence and Security Review include an airfield and maritime presence "to protect the sovereignty of British Gibraltar".
In a joint UK/Gibraltar defence statement following the meeting of Harvey with Chief minister Peter Caruana it was announced that the Royal Gibraltar Regiment remains at its current size and strength but will assume additional roles and functions.
The Royal Navy will continue to provide maritime presence in Gibraltar to protect British sovereignty and control of British Gibraltar Territorial Waters. However the MOD will further reduce its land and estate holdings in Gibraltar.
In related news Epping Forest MP Eleanor Laing has been appointed a special UK government representative to Gibraltar. Mrs Laing's new job will see her acting as a go-between for the Ministry of Defence and Gibraltar on a range of security issues.
Mrs Laing, who has resigned from her job as chair of the all-party parliamentary Gibraltar group to take up the position, said she would only visit the territory "three or four" times a year and denied it would distract from her constituency work.
She said: "When we were challenging the Labour Government over the sovereignty issue I had enormous support from people in Epping Forest for Gibraltar and for it to remain British.
"I know my constituents care very much about it too; both Epping Forest and Gibraltar are full of patriotic people who are very proud of their country."