Brazil cuts defence budget but purchase of 36 new jets remains on the agenda
Wednesday, February 16th 2011 - 13:31 UTC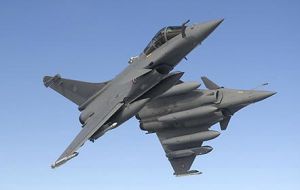 Brazil's government will cut 4,2 billion Brazilian Real (approximately 2.4 billion USD) from its 15.17 billion defense budget this year under proposed fiscal tightening, Defense Minister Nelson Jobim announced this week.

In a note published on the ministry website, the government confirmed that discretionary defense spending would be reduced by 26.5% of total allocated defense ministry spending.

The reduction in defense spending comes as part of the government's plans to reduce overall spending by 50 billion Real this year in an effort to curb excess demand in the economy and inflation pressure.

Jobim, however, said the proposed cuts would not necessarily hinder the government's plans to make a final decision this year on a purchase of new fighter jets for its armed forces.

The purchase of up to 36 jets, which has been on hold since 2002, is expected to cost the government up to 4 billion US dollars or more. But according to Jobim, the purchases would only have an impact on the federal budget in 2012 or 2013.

Among the finalists for the tender are Rafale fighters produced by France's Dassault Aviation, Gripen jets manufactured by Sweden's SAAB and F-18 Super Hornet fighters by the U.S.'s Boeing.

Brazilian government officials from the previous administration of president Lula da Silva had initially hinted at a preference for the Rafale jets, although the Air Force was inclined for the Boeing model. However the new administration recently indicated a willingness to further review the competing proposals.