Leading oil companies turn up at Uruguay Round II pre-bidding process
Wednesday, February 16th 2011 - 14:17 UTC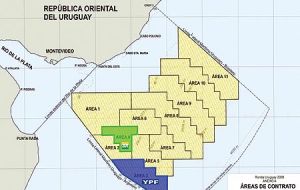 Some of the world's leading oil companies turned up at the Uruguay Round II informative session for operators interested in participating in the biding process for offshore exploration in Uruguay's South Atlantic.
Shell, Chevron, British Petroleum and Total were among the companies who showed an interest during this week's informative round in Houston, Texas, promoted by Uruguay's oil company and operator of the bidding process ANCAP.
"We believe we have fair bidding round terms" said Eng. Santiago Ferro, ANCAP E&P administration and contracts manager. "We want the only risk the oil companies have (to be) geological".
Uruguay is relatively new in the offshore arena but a few years back held an offshore licensing round and subsequently awarded two blocks. A consortium made up of YPF, Petrobras and Portugal's Galp were awarded Block 3 (under YPF operator-ship) and Block 4 under Petrobras operator-ship.
ANCAP intends to fully launch Uruguay Round II in September 2011. At that point, Ferro said, the definitive round terms and contract model will be available.
"For the next bidding round, we're going to change the shape of the blocks ... and perhaps we'll be adding in the shallow waters and the ultra-deep-waters" said Ferro.
Ten to fourteen offshore blocks are expected to be up for bid. Because ANCAP uses an open door system for land-based blocks, "onshore areas are not available in this bidding round" he added.
The Houston road show is expected to move to other oil and gas hubs in the coming months. Companies will be able to submit applications for qualification between September 2011 and February 2012. Companies may submit their bids in March and April of 2012, with bid opening in April 2012.
To entice bidders, ANCAP is making available not just its 'vintage' 2D seismic data from the 1970s through 1982 - which ANCAP may reprocess - but also more recent 2D data, including 1.840 km of 2D from a CGG campaign in 2002, 7.125km of 2D from a Wavefield Inseis campaign in 2007 and an addition 2.909km from the company's 2008 campaign.
ANCAP anticipates a new multi-client 2D campaign covering 550km will be available for 'the bidding round, perhaps as processed data or field data,' Ferro said. 'We are awarding the tender these days, (it) will be carried out from March and April.'
Additionally, Fugro Gravity and Magnetic Services expect to carry out a non-exclusive aeromagnetic data and magnetic interpretation package on the Punta Del Este and Pelotas basins offshore Uruguay.
'With all the new information, we also are discussing to have satellite images for the identification of oil seeps,' Ferro said.
While the terms of Round II have yet to be finalized, Ferro said, the PSA structure requires neither royalty payments, nor signature and/or production bonuses.
"The good thing is we don't have any royalties. We don't have any bonuses. No surface rentals" he said. Under the Hydrocarbon Law, operators are exempted on tax on net worth, consumption taxes and custom taxes. It is possible, Ferro added, that operators may be exempted from the income tax, although they would still be held accountable for social security contributions.
"The energy strategy has been agreed by all the political parties, which is a good thing" underlined Ferro.