Trichet blames Euro-zone inflation spike on emerging economies rapid recovery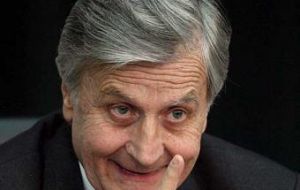 The European Central Bank is not surrendering its price stability objective for crisis management policy, the bank's President Jean-Claude Trichet said. He also argued that the recent spike in Euro zone inflation is due to the current rapid economic recovery in emerging markets and not due to the currency bloc's sovereign debt crisis.
According to excerpts from an interview with German newspaper Die Zeit, published on the ECB website on Wednesday, Trichet said, the ECB will take the decisions necessary to deliver price stability in the medium term.
"What is essential is to avoid what we call "second-round effects": namely a situation where a transitory oil shock becomes entrenched in other prices, particularly through a wage-price spiral," he said.
When asked about the ECB money pumping during the global financial crisis and its withdrawal timing, Trichet said, "While adopting a range of non-standard measures, we have never lost sight of the fact that our mandate is to deliver price stability".
When asked about implementing monetary policy when economic divergence remains across Euro zone, Trichet said, "Individual countries must accept the monetary policy as a given fact and adjust their national policies accordingly".
"When a country experiences a boom, it needs to make its own national policies - namely fiscal policies, wage policies, structural policies and prudential supervisors' autonomous decisions - more restrictive in order to avoid the economy overheating or speculation getting out of control," he explained.
Furthermore, Trichet said the strength of the German economy compared to other Euro area nations does not threaten the balance in the Euro area.
"The current growth in Germany is good for Germany, good for the Euro area and good for Europe as a whole," Trichet said.
He said that German politicians "definitely have the instruments to do what was needed" if that were necessary, but added that the German recovery, while remarkable, was not strong enough to sound an all-clear.
"It has still to be fully confirmed. It is too early to declare the crisis over," Trichet said.
Trichet also said the 17-country bloc's central bank would not let higher food and oil prices to seep into domestic prices in the Euro zone.