World's largest mining company fearful of espionage from China and competitors
Wednesday, February 16th 2011 - 22:30 UTC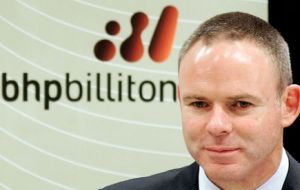 Anglo Australian mining giant BHP Billiton chief executive Marius Kloppers confirmed reports that he is fearful of espionage from China, competitors like Rio Tinto and the Australian government, saying it is one reason why he lobbied furiously for short-term pricing of key commodities.
The head of the world' largest mining company said BHP Billiton will always press for the iron ore price to be ruled by the market and not behind closed doors in China, thus countering "privileged or stolen information"
On Tuesday Australian media revealed secret Wikileaks cables between Kloppers and the US Consul-General in Melbourne, Michael Thurston, in which the BHP boss complained that Chinese and industry surveillance was abundant, that he held privacy concerns regarding the Australian Government and that doing business in Melbourne was like ''playing poker when everyone can see your cards''.
Asked by the Australian press if he was genuinely concerned of espionage by China, Rio Tinto and the Australian government, Kloppers said he would ''like to put that in the positive''.
''One of the reasons we have pushed so hard for market clearing prices is so these sorts of things aren't a concern because if you sell your product at the market clearing price, which everyone can read off screen, it just minimizes any impact of differential that one party or the other might hold,'' he said. ''You sell at full capacity, you sell at the market price and I think you should, from those comments, really understand why we pushed so hard to get to market clearing prices.''
Kloppers has led the charge to abolish the annual benchmark pricing system for BHP biggest money-making commodity, iron ore. Last year he was successful in moving most Asian customers to short-term pricing.
That only came after a fraught round of negotiations in 2009 when a deal could not be struck with China and four Rio Tinto iron ore executives, including Australian Stern Hu, were jailed in Shanghai for stealing commercial secrets.
South African-born Mr Kloppers, who described himself as being ''only nominally Australian'' in the diplomatic cables, told Mr Thurston that the Australian government ''would like to build up trade with China, but there is a 'real fear' of the Chinese government''.
''Australia does not want to become an open pit in the southernmost province of China,'' he is reported to have said.
Klooper apparently then offered Thruston to exchange confidential information on China. In 2010 China purchased 628 million tons of iron ore from Australia, valued at 25 billion US dollars, up 40% from 2009.