First woman cop-chief for Rio do Janeiro 12.000 strong police force
Thursday, February 17th 2011 - 03:46 UTC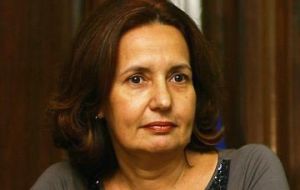 A woman has been named to head Brazil's Rio do Janeiro police department for the first time following a corruption scandal that led to the arrest of more than 30 police and military officials, officials said Wednesday.
Martha Rocha, a 27-year police veteran who led a division responsible for protection of women, will command the troubled 12,000-member Civil Police, which is responsible for fighting crime in a city famous for spectacular bouts of violence.
Rocha, 51, replaces Allan Turnowski, who resigned Tuesday following the arrest of his right-hand man in a crackdown that netted 30 police and military officers accused of corruption, theft and being in the pay of crime gangs and drug traffickers.
Under the name of Operation Guillotine, the purge comes as Rio is preparing to host the World Cup in 2014 and the Olympic Games in 2016. Brazil's most famous tourist destination, Rio also is plagued by drug violence and petty crime.
There were nearly 20,000 murders and 3,900 killings in police operations in Rio between January 2007 and May 2010, according to a study based on statistics gathered by the Public Security Institute.
Rio has several police forces. The Civil Police is responsible for fighting common crime, while the more powerful Military Police is charged with public order.
With the approach of the World Cup, Rio state authorities have launched an offensive against the gangs and drug traffickers that control some of the hundreds of slums that climb up the city's hillsides.