Good harvest year for Argentina farmers and the tax man, in spite of drought
Thursday, February 17th 2011 - 23:01 UTC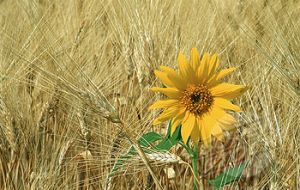 A good crop year for Argentine farmers and the government: export revenue will be up 4 billion US dollars and the tax man will bag an additional 888 million US dollars according to estimates from local grain dealers.
Although because of drought in crucial months (November to January) the total harvest of grains and oilseeds will be less than in 2010, international prices will help with a windfall 31.8% increase, points out consultants Agritrend.
In 2009/10 Argentina's total harvest reached 97.4 million tons of which 76.5 million were exported which represented 26.2 billion US dollars and almost 7.8 billion in direct taxes for the government.
According to Gustavo Lopez, Agritrend analyst the 2010/11 crop can be estimated in 92.4 million tons, 5% less than the previous year. But while soy beans and corn suffered the most from the lack of rainfall, wheat is up from 8.7 million to 15 million tons; sunflower rises 27% to 2.8 million tons; and barley (beer) jumped 65% from 1.5 million to 2.5 million tons. Corn on the other hand will total 19 million tons, 19% less than in 2009/10 and soybeans are down 15% to 47 million tons from 55 million tons.
This means the export surplus will be down 10 million tons, (from 76.5 million to 66.9 million) but prices make the difference: the average FOB price jumped from 342 to 451 US dollars the ton in twelve months, up 31.8%. Soy beans for example have gone from 390 to 490 US dollars the ton.
In other words: with less production and less export surplus total income from overseas sales is anticipated to increase from 26.15 billion USD to 30.2 billion USD. A windfall of 4 billion USD (15.5%) compared to the previous crop.
The Argentine government will also harvest: from 7.8 billion USD last year, this 2010/11 crop it will collect 8.7 billion USD, an additional 888 million USD.
Regarding corn and soy yields they will suffer because of the poor humidity: The estimated 8.600 kilos per hectare for corn will be down to 7.000 kilos and for soy beans the yield this crop is estimated in 2.500 kilos per hectare compared to the 2.900 kilos anticipated last October.