"Beginning of the end for Mercosur" warn Uruguayan industrialists
Friday, February 18th 2011 - 16:53 UTC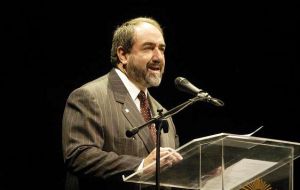 The chairman of the Uruguayan Chamber of Industry, Washington Burghi, warned that Argentina's decision to restrict imports could be "the beginning of the end" for the Mercosur. However Argentine ambassador in Montevideo said decisions are targeted against Asian imports with the purpose of defending Argentine jobs.
"I understand that every country has the right to defend the work of their people. But governments also have the obligation to respect the Mercosur agreements," Mr. Burghi complained.
"The Argentine government has been making these kinds of decisions for some time now," he considered, and highlighted that "this latest move is especially concerning since no products that may be made in Argentina can be imported, with the exception of Brazil."
He said that the latest measure "affects the Uruguayan food and textile sectors," adding that "he doesn't understand why Brazilian products have the right to be placed on the supermarket shelves."
Burgui warned that Uruguay "should also look after the work of their citizens, and that could mean the beginning of the end for the Mercosur, since agreements are not being honoured."
The chairman said he believed that the Mercosur "has been signed by several countries in the region but it is not being honoured."
"The Uruguayan government is aware of the recent restrictions," he said, and assured that the business sector is "still analyzing the situation because small countries such as ours must always be open for negotiation."
The conflict with the Uruguayan industry began after the Ministry of Industry decided to include over 200 imported products in the list of goods that need a special permit to enter the country. Argentina justified the measure as a move to "protect national production".
In Montevideo Argentine ambassador Dante Dovena dismissed criticisms, said there was not discrimination towards Uruguay and described trade restrictions as measures to defend the domestic market from Asian imports.
"This has nothing to do with discriminating Uruguay or any other neighbouring country, it's a decision to defend our domestic market and we are going to defend our labour costs here, in China or wherever. And this is mainly geared towards Asian products that affect our market and production", said Ambassador Dovena.
The Argentine ambassador added that in 2003, China represented 1% of Argentina's industrial GDP, but now has soared to 20%. It's gone up 20 times and if we don't stop this Argentine labour and jobs will go down the drain".
He emphasized the measures were not directed against Mercosur countries with which we have similar economies, and are exposed to the same trade aggression.
"Don't tell me that trade difficulties between our two countries have anything to do with selling or not selling Easter budding or (chocolate) Easter eggs", underlined Dovena.
"What we are doing is building a regional balanced market. Now, if other countries are going to do absolutely nothing to protect them from disloyal competition generated by the Asian continent towards us, it's an internal problem of each Mercosur member", said Dovena who underlined that in the of Argentina "we are making decisions to protect Argentine labour and Argentine jobs"