Chilean journalist reflects on Falklands' sovereignty dispute
Friday, February 18th 2011 - 05:50 UTC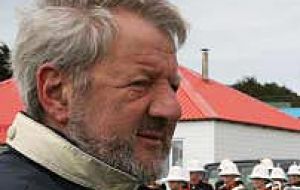 The benefit of encouraging opinion makers to visit the Falklands was demonstrated when an article translated as "Petrol sets the Falklands on fire" appeared on the website lanacion.cl, written by recent visitor and Chilean writer and journalist, Raúl Sohr.
More than 2,000 words in length, and with headings such as Petroleum, The Military Situation and The Diplomatic Front, the article gives a very reasonable and balanced account of a number of aspects of our existence, beginning with the Argentine Government's attempts to interfere with shipping to and from the Islands and the loss of up to 11 million US dollars annually suffered by businesses in Punta Arenas.
Reflecting that there appears to be no obvious solution to the sovereignty debate, Raúl says the discovery of oil will add to the intransigence of both sides, with countries in the region like Chile being forced to take sides, at least in some aspects.
He says: "It is the nature of such conflicts that they rarely benefit anyone, but can harm many."
The comments from his Chilean readers which follow also are of interest, with one writer claiming 89% of Chileans supported the British in 1982, because they knew that if successful in the Falklands, General Galtieri's next step would have been to invade Chile.
One Chilean who says he is convinced it is both right and much better for us to be British, goes back in time to mention that the Argentine Government took advantage of Chile being engaged in defending its borders to the north to take Patagonia from Chile, and adds that to those who believe Argentina has always owned all the territory it currently claims, it should be pointed out that Mendoza was founded by the Chileans, who also formed a large portion of San Martin's army of liberation.
The tendency in South America for historical disputes over territory to live on well past their sell-by date is also demonstrated by one obviously Argentinean writer who urges: "It should not be forgotten that the British tried to take the whole of Argentina by force in 1806 and 1807," and goes on to claim that it was because of this failure that "the dirty British" took the Falklands in 1833.
By John Fowler - Penguin News - Stanley