G20 negotiators fail to agree targets to reduce global imbalances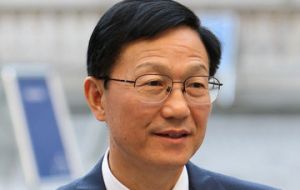 Negotiators have failed to agree targets to reduce global economic imbalances on the first day of the two-day G20 meeting in Paris. The countries want to better coordinate economic policies to avoid a repeat of the 2008 global financial crisis.
Most back a list of five targets, but China is said to oppose exchange rate and currency reserve criteria. Beijing has been accused of buying up dollars in order to keep the Yuan cheap and gain an unfair trade advantage.
Some economists say that China and other "mercantilist" countries contributed to the 2008 financial crisis by accumulating excessive foreign currency reserves, especially US dollars.
By buying up dollars, these countries hold down the value of their own currencies, making them more competitive and helping them to run surpluses. And by investing this money in US government debt, they are accused of having helped to make borrowing costs in the US too cheap during the last decade, helping to fuel the housing bubble.
"We think it is not appropriate to use real effective exchange rates and reserves," said Chinese finance Minister Xie Xuren, speaking to his counterparts from Brazil, Russia and China.
"Emerging markets, to deal with financial crises and economic shocks, need to set up a certain amount of reserves," he said.
Many Asian countries began building up their reserves in the wake of a crisis in 1997 that saw many of them forced to painfully devalue their currency.
Finance ministers will meet on Saturday to try to hammer out a compromise. One idea being floated is that China could focus on its trade surplus instead of its current account surplus.
This would mean the country could ignore the effect of all the income it earns from the multi-trillion dollars-worth of US government bonds and other foreign financial assets it owns. However, Germany and Canada are opposed to this idea.
Meanwhile, the Canadian and Brazilian governments have backed the idea of including the Yuan in the IMF' "special drawing rights" (SDR), as a step towards making the Chinese currency into a reserve currency.
Most countries agree that central banks have become too reliant on buying up just dollars, and many favour a bigger role for SDR, which comprise a broader bundle of major currencies.
However, Beijing does not allow foreigners to freely buy Yuan in the currency markets. And China's trade surpluses mean that other countries find it impossible to accumulate the currency in return for the exports they sell to China.
Meanwhile, the G20 is being urged to tackle the issue of price inflation affecting basic goods. Ahead of the meeting, the International Monetary Fund warned food price rises have increased economic imbalances.
And earlier this week, the World Bank said food prices were at "dangerous levels", saying that forty-four million people have been pushed into poverty since last June.
John Lipsky, first deputy managing director of the IMF, told the BBC that the G20 needed to work to remedy the instability: "There is great concern over the obvious high volatility of basic commodity prices especially food."
French President Nicolas Sarkozy, who is currently the head of the G20, has argued that commodity speculators should be reined in in order to reduce food price spikes and volatility.
Meanwhile, more than 100 European and international organisations led by the World Development Movement (WDM) have signed a statement warning the G20 of what they see as the dangers of unchecked speculation.
Julian Oram of the WDM said: "By taking action now to curb excessive speculation on food, G20 leaders could save lives, reduce chronic hunger and prevent civil and political unrest."
Some analysts have pointed to the difference between speculation, which can provide up-front money to a farmer to plant new crops, for example, and market manipulation, which is designed purely as a play on prices.
Mr Lipsky said the market for food and other basic commodities was heavily burdened by controls and subsidies: "I think it would be very useful for the G20 to look at these markets in much better detail and see if they can be improved to better serve the global community and not be a source of instability and worry". (BBC)