Milestone for Buenos Aires police force: two women officers get married
Saturday, February 19th 2011 - 05:42 UTC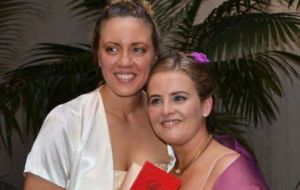 A same sex couple, members of Argentina's Federal Police and with the same rank, promised eternal love at a simple, warm and joyful ceremony in Buenos Aires City downtown Tribunals' palace.
Deputy Inspector Mariana Blanco, cadets' instructor and an advanced electronics student married on Thursday mid morning Deputy Inspector and solicitor Paula Ramirez.
The couple met five years ago at the Federal Police and two years later moved in together. When they were transferred to Buenos Aires City Metropolitan police their romance was no longer a secret and surprisingly they were encouraged by superiors and fellow law enforcement officers.
It was a dream come true for the couple that in the other force had suffered discrimination and not so distant in time, prejudice. Described as beautiful, sexy and charming the couple surprised by their elegance and feminine looks.
Mariana was dressed in ivory colour natural silk that dropped just below the knees with a salmon colour belt where she carried the roses. Paula opted for pink tulle with golden embroidery and shawl plus a bouquet of violet and fuchsia flowers.
Casuals with Louis XV heels were the big surprise as was Paula' delicate gold short necklace that combined exquisitely with the watch and ear rings.
Friends and fellow officers celebrated the ceremony that was performed by Justice of Peace Luisa Tripladi, the same judge that a few months ago married the Mayor of Buenos Aires City Mauricio Macri and Juliana Awada.
A magistrate who happened to pass by congratulated the couple and remarked that "these are the kind of officers needed for house search warrants".