Falkland Islands: Rockhopper Exploration plc 14/10-4 Appraisal Well Spud
Monday, February 21st 2011 - 10:07 UTC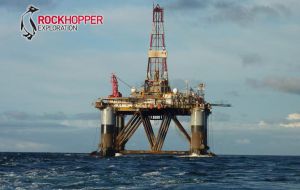 Rockhopper Exploration plc (AIM: RKH), the North Falkland Basin oil and gas exploration company, announces that the 14/10-4 appraisal well was spudded at 0040hrs GMT on 19 February 2011.
14/10-4 is the first appraisal well to be drilled on the Sea Lion feature situated on Licence PL032, which is 100% owned and operated by Rockhopper.
The appraisal well (14/10-4) is located 2.3km away from the Sea Lion 14/10-2 discovery well, in the southern lobe of the Sea Lion fan system. 14/10-4 is designed to investigate reservoir and hydrocarbon columns downdip of the Sea Lion 14/10-2 discovery well.
The planned Target Depth of circa 3,000 metres will investigate the possibility of deeper sands than those encountered in the Sea Lion discovery well.
Drilling operations are expected to take approximately 38 days and a further announcement will be made once drilling is completed.
- Rockhopper was established in February 2004 with a strategy to invest in and carry out an offshore oil exploration programme to the north of the Falkland Islands.
The Company floated on AIM in August 2005 and holds a 100 per cent. interest in four offshore production licences: PL023, PL024, PL032 and PL033 which cover approximately 3,800 sq. km.
Rockhopper has also farmed in (7.5% working interest) to licences PL003 and PL004, which are operated by Desire Petroleum. These licences have been granted by the Falkland Islands government.
An extensive work programme has been carried out over a number of years on the licences operated by Rockhopper. This has included 2D and 3D Seismic and Controlled Source Electromagnetic Mapping (CSEM). In February 2010, the Ocean Guardian drilling rig arrived in Falkland waters to carry out a multi-well drilling campaign.
Rockhopper drilled an exploration well on its Sea Lion prospect during April and May 2010, the result of which was the first oil discovery and Contingent Oil Resource in the North Falkland Basin. The Sea Lion discovery was successfully tested during September 2010 and was the first oil to flow to surface in Falkland Islands waters.
Rockhopper has contracted seismic vessels MV Polarcus Asima and Nadia to carry out a 3D seismic survey, beginning December 2010, over areas of licences PL024, PL032 and PL033 which were not previously defined by 3D, as well as adjacent areas.
Rockhopper is currently carrying out further drilling on Licence PL032.